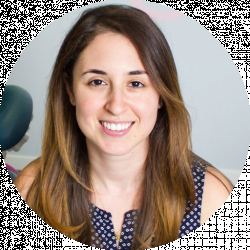 Latest posts by Erica Anand
(see all)
Clear aligners are one of the most popular cosmetic treatments in the dental industry because of its convenience and esthetics. Removable aligners offer the ability to correct imperfections of teeth to create a straight smile while being nearly invisible.
This discreet treatment option is appealing for most adults who want to avoid traditional metal braces. Now, direct-to-consumer aligner companies are offering a more affordable way for people to improve their smiles and correct any malocclusion.
Why choose Byte?
Byte offers clear aligners that are unique compared to other online aligner companies. Besides being clear and removable, Byte set themselves apart because they claim Byte aligners can straighten teeth quicker than other brands because of a highly advanced technology called Hyperbyte.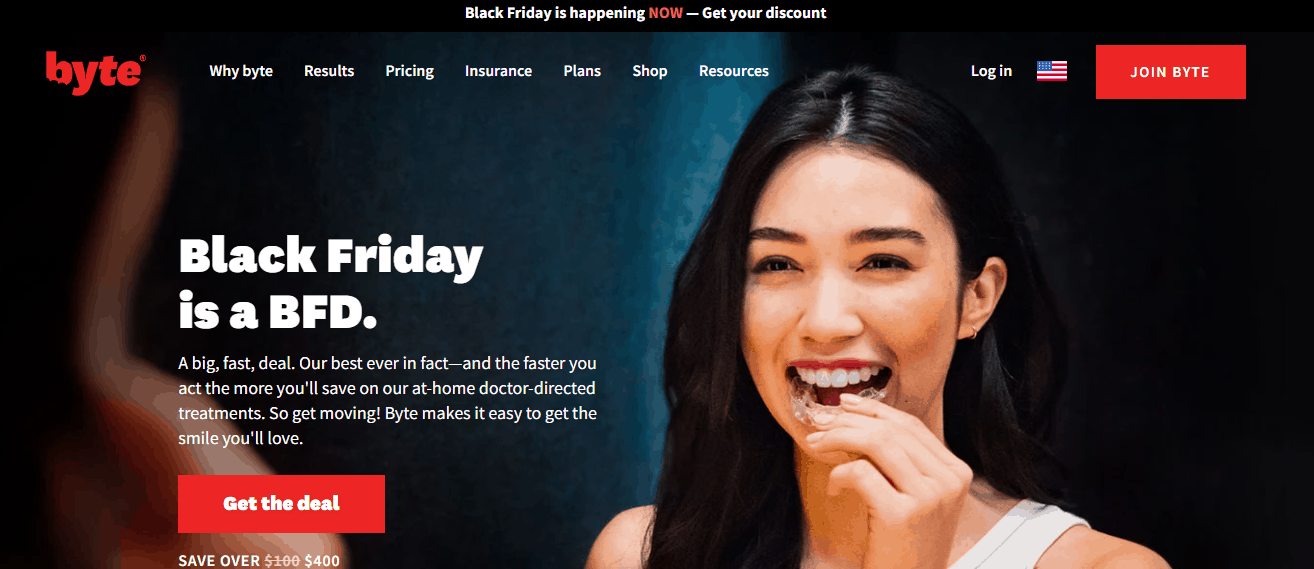 Hyperbyte is a type of high-frequency vibration that causes teeth to shift more quickly and comfortably into their correct positions.
Did you know that hundreds of millions of people worldwide have dental issues that could be resolved from orthodontic care, but are unlikely to visit a dentist because of the high cost? Byte is an affordable treatment at $1895 compared to the average orthodontic costs that can range $5000 to $7000.
Byte sets a high bar in marketing their aligner company compared to other brands. They teamed up with a celebrity dentist, Dr. Jon Marashi, and attracts a younger crowd with their modernized branding and social media outlets. They offer the first set of retainers free to help keep your teeth straight while some aligner companies charge about $100 for this service.
What is the Byte process?
The Byte process is fairly similar to other at-home aligner companies. Most importantly, treatment cases are supervised by a trained orthodontist to ensure safe and esthetic outcomes. Their simple instructions make it easy to get started in transforming your new smile.
1. Home impressions kit
When you sign up with Byte, you will be sent an impression kit to fabricate your custom aligner trays. The kit contains all supplies necessary to take impressions of your teeth to create the molds. Your kit will include:
Upper and lower molding trays

Cheek stretcher to get the best fit for your molds

Gloves

Molding putty
If you have any problems, they offer a Byte team member to assist over the phone. Once the impressions are complete, send them back in a pre-paid box and you're on your way to your at-home orthodontic journey.
2. Orthodontic evaluation and preview
Once your custom impressions are received, a licensed orthodontist will determine if you are a good candidate for Byte. The best candidates are those with minor to moderate malocclusions. If you are not an eligible candidate, you will be sent a full refund for your impression kit.
Not many other companies offer a full refund for not being a suitable candidate, so this is an important key feature to keep in mind when considering an online aligner company.
If you decide Byte is the right treatment for you, payment can be decided at that time. You will have the option to choose between a single payment or financing for 25 months.
At this point you will get to preview how your teeth will look at the end of your treatment. This is one of the greatest perks of choosing clear aligners compared to conventional metal braces. Think of your preview as a motivator to wear your aligners to get to that perfect, straight smile.
3. Byte aligners
It may take up to six weeks to receive your aligner trays once you are ready for treatment. This is because Byte needs to create a 3D model of your teeth and a custom treatment plan on how your teeth will move. You will also need a treatment plan approved by a licensed orthodontist.
When your aligners arrive in the mail, it will contain:
Custom aligner set: Depending on the severity of your malocclusion, you will receive an entire set of trays for the duration of your treatment.
Personal carry case: This case is for when you need to remove your aligners to eat or brush, you can keep them safe. Remember if you lose it, replacement cases are $20.
Hyperbyte vibration technology: This is what sets Byte apart from other online companies. You will receive a high-frequency vibration (HFV) device that helps shift teeth quicker and decreases pressure and discomfort. Byte offers this technology for free!
Brightbyte foam: While straightening your teeth, you still want to maintain a fresh and bright smile. Brightbyte is a foam that whitens and keeps your teeth and aligners clean and fresh.
Your Hyperbyte vibration device should be used once a day for five minutes. This device is simply used by putting on your aligners and then inserting the Hyperbyte into your mouth similar to a sports mouthpiece or at-home whitening LED tray. Press the button to turn it on and it will automatically turn off after five minutes.
The benefit of Hyperbyte is when you initially insert a new set of trays, they feel tight and can cause some pressure and discomfort. With the Hyperbyte, it allows the teeth to become more accustomed to the trays and adapt to their new position quicker. Byte recommends changing your trays at night time to make for a more comfortable fit and less pain.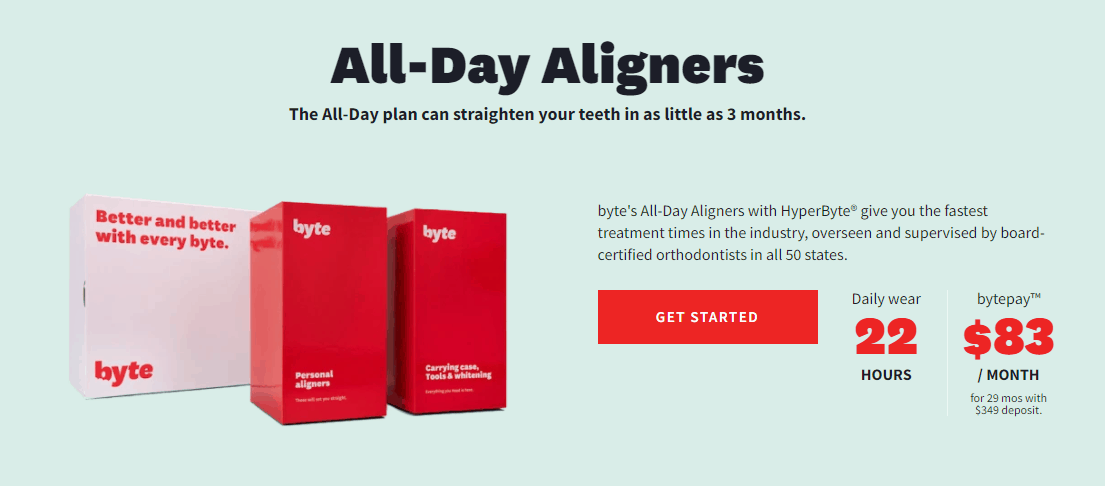 Like other clear aligners, it is recommended to wear your trays for 22 hours a day for effective results. Unlike other aligner companies like Invisalign and ClearCorrect, Byte recommends wearing the tray sets for only one week rather than two.
Remember to wear your trays as much as possible and only remove them for eating and drinking. Keeping your trays clean will not only give you a brighter smile, but help decrease the risk for tooth decay and gum disease.
You can drink water with your trays in. The more you wear them, the quicker your teeth will develop a new memory of the correct position and shift into a straighter alignment.
4. Byte retention
Your treatment will eventually end but aligners will be apart of your routine for a lifetime. Retainers are necessary to hold your teeth and in the proper position so they don't relapse and shift back into their original positions.
What is the cost of Byte?
Byte offers two simple payment methods to help you cover your aligner costs.
Upfront payment: A single payment of 1895 will include your entire treatment plan, custom aligners, Hyperbyte vibration device, Brightbyte foam, and retainer set.
Bytepay: If you decide $1895 is a steep cost upfront, you can always finance your treatment. It will cost $2756 through financing at $83 for 25 months and a $349 deposit.
Remember that your impression kit costs $95, but if you don't qualify for treatment, you will get reimbursed. If you have dental coverage, it may reduce your costs with Byte. You can file a dental claim for reimbursement from your insurance as many people have partial orthodontic coverage.
Check out how Byte compares to:
Key Features
Byte is a top-notch company offering all the perks that come with direct-to-consumer teeth straightening but at the fraction of its traditional cost. While most treatments will cost at a minimum $4000, Byte offers aligner treatment, whitening products, and retainers at less than $2000.
Pros
Byte offers guaranteed additional treatments for life if you can prove that you followed your treatment plan and retainers as recommended. This is at no additional charge! You cannot beat this type of service.

They offer partial insurance reimbursement and will help you file a dental claim so that you can actually receive money back from your treatment!

Hyperbyte is a unique technology that other aligner companies don't offer. It helps speed the straightening process and makes the treatment more comfortable.

Byte claims their treatment time is shorter than its competitors with the average time in trays being two to four months.
Cons
Byte is only effective for people with mild to moderate alignment issues. This means if you have severe crowding or bite problems, it will be recommended to go with a more traditional orthodontic service like braces.

The American Academy of Orthodontics (AOA) does not endorse or recommend the use of direct-to-consumer teeth straightening companies. They claim orthodontics should be overseen directly at in-office sessions with a trained orthodontist.

At this time, Byte only delivers in the continental United States and there are no international deliveries. Hopefully, one day this will change!
FAQs
Question: How long is Byte treatment?
Answer: The average Byte treatment plan ranges from two to four months. Some cases that are more complex can take longer. Byte claims they can help people straighten their teeth in a quick and safe manner using Hyperbyte technology.
Question: Are Byte aligners safe?
Answer: Byte aligners are fabricated from medical grade, BPA-free plastic. They are definitely safe! In fact, they make it easier for you to brush and floss your teeth compared to traditional metal braces. Byte aligners help maintain good oral hygiene throughout the process to decrease the risk of tooth decay.
Question: What if I have a problem with my Byte treatment?
Answer: Byte offers excellent customer service to help you along your entire aligner journey. If you feel your bite is off or there is a technical issue with your trays, you can contact Byte customer care via phone, email, video chat or even social media. They are quick to respond and communicate to correct any problems you may experience.
Question: How much does Byte cost?
Answer: Unlike many aligner companies, Byte accepts orthodontic coverage from your dental insurance. They will assist you in filing for reimbursement if you have dental coverage. You can also use any type of flexible savings account or health savings account if your job offers this benefit. Byte accepts CareCredit as a way to lower your initial out-of-pocket costs.
Question: How does Hyperbyte technology work?
Answer: Hyperbyte vibration technology works by sending multiple, soft impulses to your teeth to help them straighten. It improves the movement of the tooth by up to 64% by using the device for five minutes a day. Your Hyperbyte device needs to be charged via a USB port and is simple to carry.
Question: How does Byte compare to its competitors?
Answer: There are several online aligner companies that offer similar types of treatment. What sets Byte apart? The pricing, the Hyperbyte technology, and the customer service is top-notch compared to its competitors like SmileDirect, Smilelove, Clearcorrect, and Invisalign.
• Pricing: Byte offers one of the cheapest custom aligners from your home.
• Hyperbyte technology: There is no other company that offers this vibration technology and at NO additional charge. Did you know that orthodontists that offer this service can charge up to $600 alone simply for the vibration device?
• Customer support: While other companies are limited in their customer care, Byte offers all ways to communicate – email, video conference, phone, social media.
Is Byte right for you?
The first thing people notice about you is likely your smile. If you have any imperfections, and most of us do, Byte is a great solution to help improve your smile in a simple and efficient way. I recommend Byte because of its excellent customer care compared to its competitors.
With their reimbursement policy for the impression kit and their several communication platforms, it is an assurance that your at-home aligner treatment will go smoothly. Based on their competitive pricing and delivery kit full of goodies like whitening foam, there is little doubt that Byte is a top-notch aligner company.