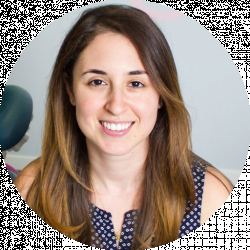 Latest posts by Erica Anand
(see all)
If you are in the search for a discreet way to improve your smile, Smilelove may be the cosmetic solution for you. Like many people, you are looking for an effective and convenient way to straighten your teeth from the ease of home.
Clear aligners offered at your dentist may entice you to help straighten your teeth and build your confidence, but not at the high cost that traditional orthodontics may run.
Smilelove developed as an affordable and convenient online company for people looking to straighten their teeth but at a fraction of the cost of a service like Invisalign.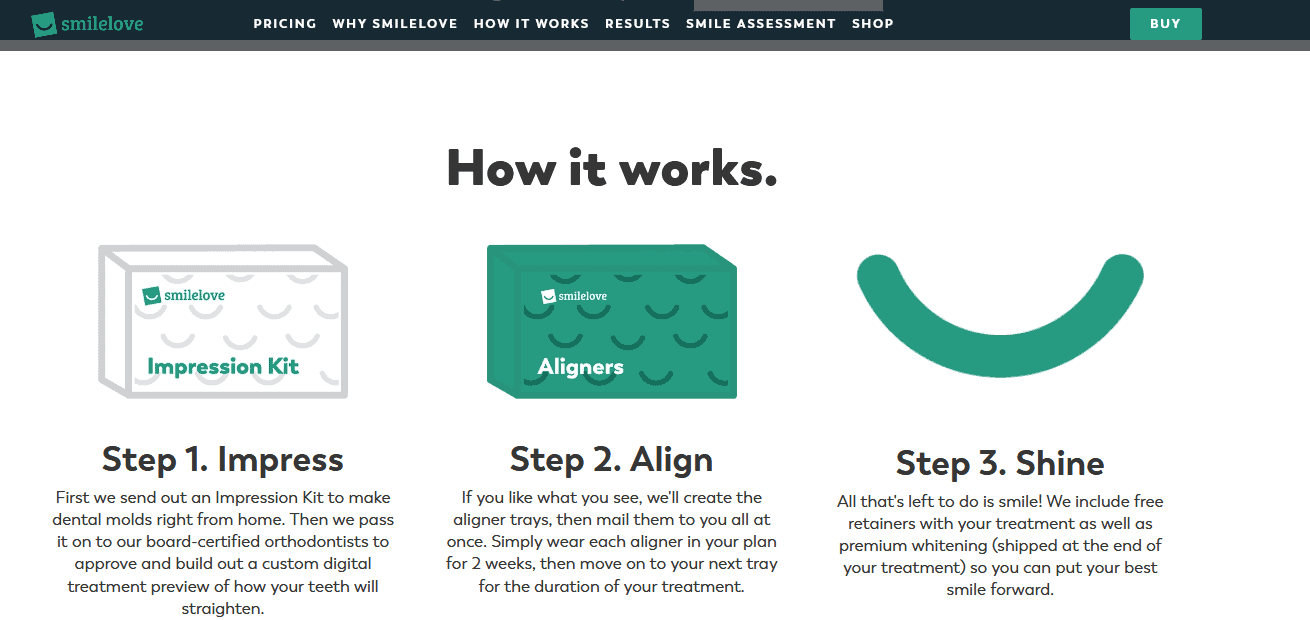 Clear aligners are top requested cosmetic services at dental offices because they are less visible than traditional braces and they are removable.
Each year, the request for clear aligners only goes up meaning there are more and more online aligner companies developing to meet people's high expectations at lower costs. Even more desirable to many is being able to straighten your teeth remotely and avoiding time-consuming trips to the dentist.
How Clear Aligners Work
Clear aligners traditionally work by using clear or nearly invisible aligners to shift your teeth into the correct position. You will purchase a treatment kit that contains an impression kit and instructions on how to take custom molds of your upper and lower teeth.
Once completed you will send them back and your custom aligners will be fabricated using the highest level of aligner technology. A licensed dentist will oversee your case to determine if you are a good candidate for orthodontic treatment.
As your case progresses, you will be eligible for retainers and you are ready to smile with newly straightened teeth!
What Is the SmileLove Process?
Smile love's process works similar to other aligner companies, but here is a general overview so you can decide if it is the right journey for you.
Are You A Good Candidate For Smilelove?
Before you purchase a starter impression kit, you should check the qualifying factors to decide if you meet the treatment requirements. Some of these dental factors are the same qualifying factors your dentist will look for when evaluating your candidacy for clear aligners.
SmileLove will also require you to visit a dentist before starting treatment. If you are a good candidate, Smilelove may be the solution to ending your crooked smile. If you don't meet the requirements, your best option may still be discussing orthodontics with your private dentist.
Good Candidate:
Older than 15 years old

No remaining baby teeth

Slight crowding or misalignment

Slight spacing

No jaw problems

No permanent retainer from previous orthodontic treatment

Poor Candidate

Severe misalignment or crowding

Periodontal disease

Tooth decay

Dental prosthetics like bridges

Missing teeth

Dental implants

Broken down or fractured teeth
Impression Kit
Once you purchase your starter kit for $79, Smilelove will send you an impression kit that contains all of the materials needed to create molds and photographs of your teeth.
Your kit will contain instructions for both impressioning and photos, practice putty so you can practice your impressioning skills before you take the final molds. You will get two sets of trays for both the upper teeth and lower teeth.
Your kit will include a mouth stretcher so you can access your back teeth easily for intraoral photographs.
Dental impressioning takes time and skills, but with the written instructions and instructional video, you will become a pro in no time!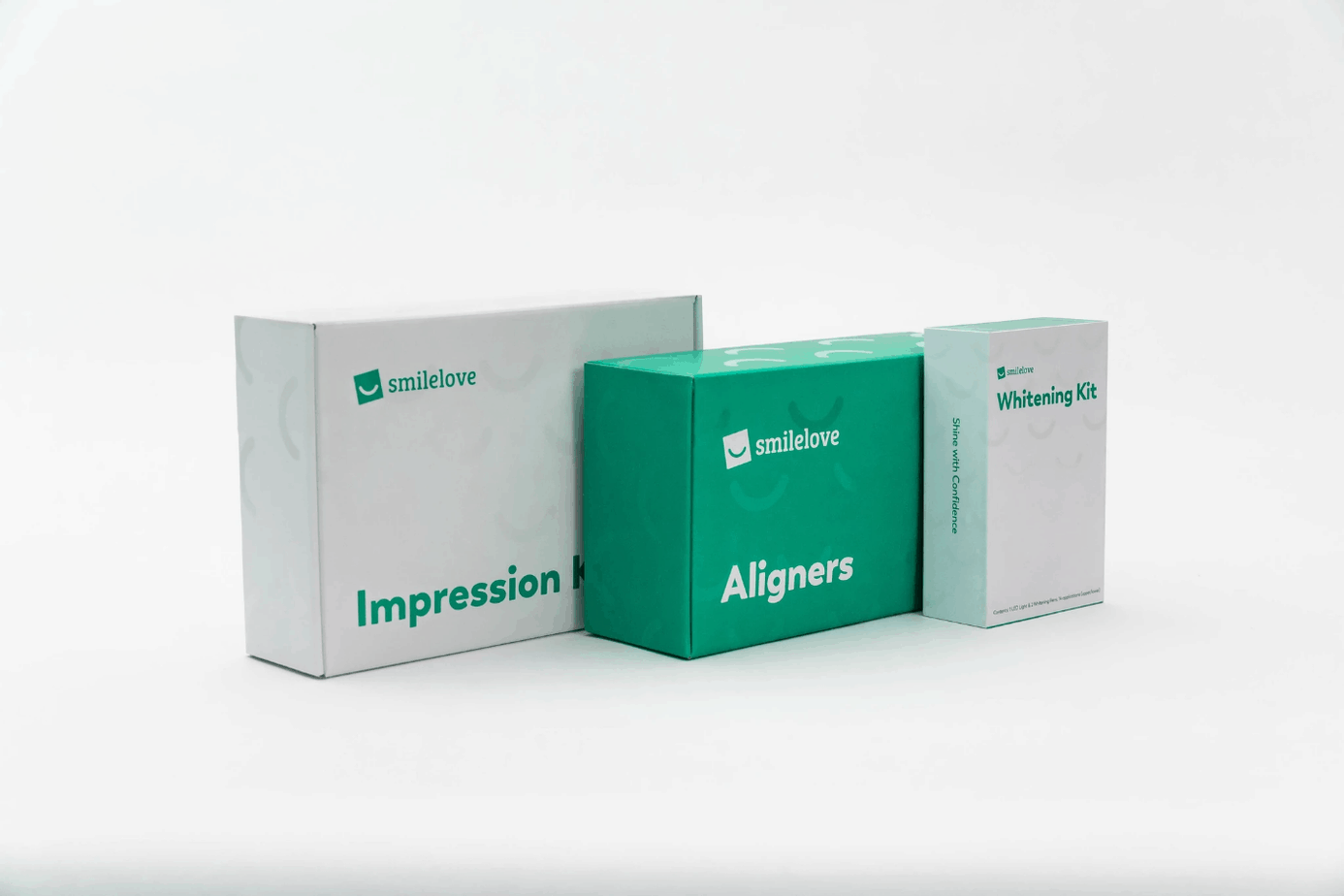 Treatment Preview
One of the greatest features of Smilelove is being able to use digital media technology to see how your treatment will progress. At this stage, you will get an email link to see how long your treatment will be and how the aligners will shift your teeth into the proper position.
Treatment traditionally takes around six months for mils cases and up to twenty-four months or longer for complex cases.
At this point, you can move forward with your Smilelove treatment or cancel your treatment. In the past, Smilelove reimbursed customers for a cancelled plan, but most recently they have been understaffed and customer service is continuing to change their policies. It is always best to speak with a team member to get the latest update on their reimbursements.
If you decide to accept your treatment plan, your aligner kit will arrive within 4 to 6 weeks and you are ready to straighten.
Straightening Process
Smilelove uses Clearcomfort technology to create custom-fit aligners that fit around your teeth and gums. Similar to Invisalign, the aligners are made from Essix plastic, which is a comfortable and thin, translucent material. Importantly for your health, they are also BPA-free. Your basic treatment package will include:
All of your aligners individually packaged and labeled by the week

Aligner chewies to help you adjust to new trays

Aligner removal instrument to help comfortably take out your trays

A file similar to a nail file that can sand down a rough edge of your aligner

If you purchase a bundle package, you will receive all of the goodies in the basic, but also includes:

A carry case for your trays when you remove them

Cleaning spray for your aligners

Lip balm

Whitening materials that are shipped when you are done with your treatment
How to Wear Your Aligners
The two main benefits of clear aligners are that they are nearly invisible and they are removable. Since they are removable, you must remember to wear them for about 22 hours a day.
This time frame is consistent with all aligner brands because your teeth need a consistent "reminder" to move into their new position. Here are some of the Do's and Don'ts with your Smilelove aligners
Do's:
Do wear them for the recommended time of 22 hours. Without the constant wear of your trays, your teeth will not form a new "memory" of their correct position. This means your teeth will move slower and not as effectively as your switch trays in two weeks.

Do take them out to clean them every day so they stay clear and don't build up bacteria. Wearing stained trays is not attractive nor is it good for your oral health.

Do continue to brush and floss your teeth each day. You can still get cavities if you consume a lot of sweets and don't brush well as your teeth will trap bacteria and food debris within the aligner trays.

Do remember to continue going to your routine dental visits. You always want to be in contact with your dentist to ensure you have no tooth decay and that your oral health is in top shape.

Do wear them proudly! Be confident that you are taking the initiative to improve your smile and give yourself a new, better YOU!
Don'ts:
Do not chew gum with them. This should be a label on anything related to orthodontics and teeth straightening.

Do not eat with them. You can drink water with them on. Eating with them will cause staining and can do damage to your aligner trays. Remember to put them in your carry case when you remove them to eat.

Do not use toothpaste or dish soap to clean them. Use a denture or retainer cleaner. Don't use anything too abrasive as you don't want to wear down the plastic.

Do not change your length of time wearing them, follow the instructions. Changing the instructions can impact the way your teeth move and can do more damage than good. If you were to get trays from the orthodontist, you would follow their instructions. Make sure to follow your Smilelove treatment plan.

Do not lose them! Like any aligner, do not throw them away or leave them out for the dog to destroy them!

Key Features
Smilelove strives to deliver excellent care for people at the convenience of their home. Like most online aligner companies, Smilelove tries to provide dedicated remote service. Here are some key points on why Smilelove may or may not be the aligner company for you.
Pros
Smilelove's price point: Compared to many competitors, Smilelove offers a fair and competitive price for its impression kit and fast-track aligner system.
Professionally reviewed: Smilelove utilizes licensed orthodontists to oversee cases to ensure they are appropriate cases for aligners and don't require conventional braces in a traditional dental setting.
Customer refund policy: Smilelove works hard to offer to finance and deliver fair cost treatment compared to traditional aligner companies like Invisalign. In the past, Smilelove has offered financing at 0% APR and no required credit check.
Cons
No physical location: Unlike its competitors, like SmileDirectClub it makes it more challenging to start cases
Outside costs: Following your treatment, you will need retainers to help maintain your new straightened smile. These are very similar to your clear aligners, but customers are charged an additional $99 for a retainer set. Most recently, Smilelove implemented a new $300 fee for complex cases that require 40+ clear aligners.
Customer support: In the past, Smilelove customer support seemed like it was it's number one asset especially considering the entire company is remotely run. Patient reviews in the early stages of the company show they responded quickly to concerns and tried to provide excellent care while also responding to feedback. Nowadays, patients respond differently saying there is almost no response from the team after shut down during the Covid-19 pandemic.
The Verdict
Smilelove seems to cover all of the important bases that are desired in an online aligner company. They offer low-cost and attractive aligners to help people straighten their smiles and correct minor imperfections they want to improve. While it seems like a no-brainer, is Smilelove all it is cracked up to be?
Teeth aligners are a major component of orthodontics. Orthodontics is the area of dentistry that focuses on the malposition of teeth and misalignments that can control facial growth and dental orthopedics.
This means orthodontics is not like buying makeup or another cosmetic online. It is a serious area of dentistry that improves your smile with straight teeth, but can severely impact your oral health and overall wellbeing.
It is wise to consult an orthodontist in person to discuss your needs, diagnosis and any area that may impact how your jaw aligns, your TMJ, and your facial development.
For people with the slightest crowding or imperfections, Smilelove may be the answer because it is a fraction of the cost of other aligner companies like Clearcorrect or Invisalign.
That being said, if teeth are shifted improperly, you can cause severe issues like TMJ problems, headaches or a misalignment of the bite simply for a few dollars. I would always recommend doing orthodontics exactly where it should be done: in a professional setting under professional guidance.
Considering all of the features Smilelove offers and the latest customer service changes, it is not recommended to use the aligner company. Instead, it is highly stressed to either use an in-office licensed orthodontist. If you still have your heart set on an online aligner company, byte offers a modern approach to straightening your teeth from home.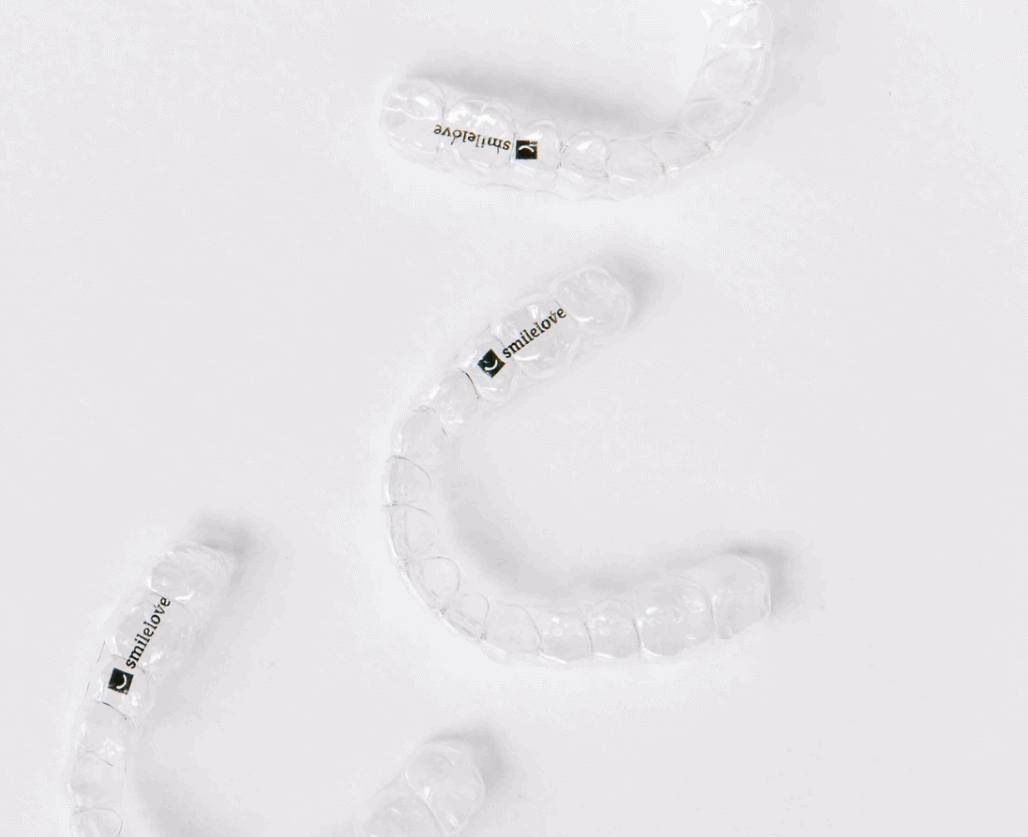 Alternatives to Smilelove
If you are considering clear aligners to improve your smile, there are several options readily available that offer convenient service and affordable payment plans.
Byte
Byte is a wonderful option for people searching for a low-cost and high-quality customer care company. Byte delivers what people are looking for: good communication, affordable treatment at $1895, and a reimbursement on the impression kit if you are found not to be a suitable candidate for Byte.
It also features state of the art technology using Hyperbyte, which allows you to complete treatment in as soon as two to four months!
Smile Direct Club
Smile Direct Club is a doctor overseen, popular aligner company that claims they can straighten teeth for up to 60% less than a traditional orthodontist. They currently offer almost 400 stores nationwide and are constantly evolving to make it more convenient for you to straighten your teeth from the comfort of your home. The cost of Smile Direct Club is $1950 and they offer SmilePay so that you can easily pay in low monthly installments.
Read our full Smile Direct vs Smilelove comparison.
Invisalign
If you are not a good candidate for direct to consumer aligners and require additional care, Invisalign is the number one aligner brand used in dental practices across the United States.
The price is slightly steeper than other at-home aligner brands, ranging from $4000 to $7000, but you will be directly overseen by a licensed orthodontist and will be guaranteed results that last.