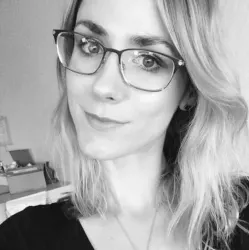 Latest posts by Karyl Trejo
(see all)
When we talk about a dental implant, we refer to the device that helps replace one or even multiple teeth. Specialists also refer to them as "artificial tooth roots," and surgeons place them in the jaw so they can fuse with the bone over time.
You probably need a dental implant if you have one or more missing teeth, but you can't (or you don't want) to get other dental treatments available for it, like:
You may be asking yourself: how does a dental implant work? In brief, the structure of a dental implant mimics teeth. Commonly, manufacturers make them of titanium, so the human body doesn't reject the material when a specialist surgically implants it in the jaw.
Because of how they work, dental implants are one of the closest things to natural teeth, and today, dental implants are one of the best treatments available for missing teeth. Still, there are different dental implant brands, each with mixed characteristics and features.
It can be challenging to try to learn more about dental implants without coming across Clear Choice at some point in your research. After all, it's one of the most famous dental implants brands.
If you're reading this, maybe you decided Clear Choice wasn't for you – and that's perfectly fine! I'm here to help you narrow your options down. Today we'll see the top Clear Choice alternatives, as there are lots of products and options available to you.
Because I know you're likely very curious about these different options, I'll be summing them up for you in this article. That way, you can make your choice with better confidence and get on your way to a completely restored and beautiful smile once more!
My Bottom Line Up Front: After carefully researching the best dental implants on the market right now, I have determined that Straumann Dental Implants is the best choice. Not only are they incredibly affordable, but their quality simply can't be beat. It's one of the most famous dental implants companies and has proven to be the best one in the market.
My Runners-Up At a Glance
The Different Types of Dental Implants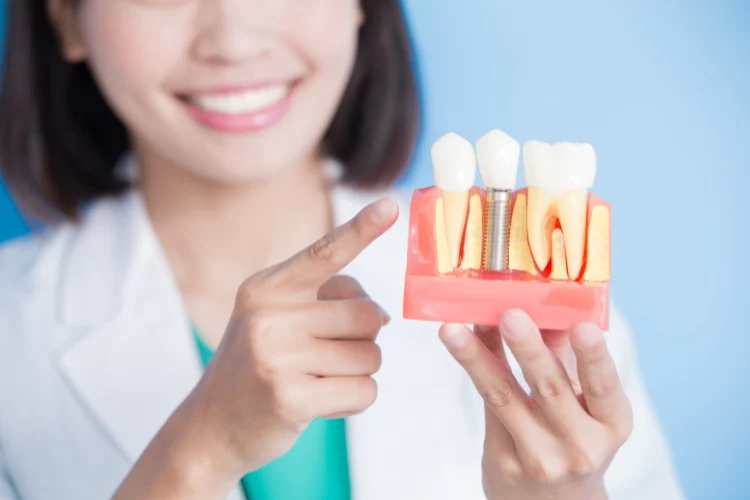 Every brand has unique features for the product they offer to their patients. That means, of course, that there are many different ways to classify dental implants. One of those ways is to categorize them depending on characteristics like:
The materials used

The location of the placement

The treatment method
Let's go ahead and take a look at one each one of these considerations.
The Material Used
First and foremost, dental implants have to be bio-safe. Bio-safe means they need to be compatible with the human body because otherwise, it can lead to severe complications.
For a material to be considered "bio-safe," specialists have to prove with previous research that:
It can fuse with jaw tissue (a process known as "osseointegration").

It has low allergic potential.
Today, the two most commonly used ones are titanium and zirconia, with both of them having properties that make them capable of successful implantology procedures.
Titanium
Titanium is the oldest option out there, but that doesn't mean it is out of date. On the contrary, titanium is still the most commonly used material for dental implants. It is a safe option because titanium has a low possibility of allergy.
Dr. Branemark was the first person to place titanium implants in a patient in 1965. Since then, it's been considered the best option for dental implants.
Another feature that makes this material hard to knock down is the superior ability of osseointegration. Osseointegration is the process where a material fuses with the jawbone. Titanium as a material has this ability, providing a stable foundation for dentures or bridges.
Typically, titanium implants come in two parts: a post and an abutment. One advantage of this system is that it aids in better customization for the patient. One possible downside of using titanium, however, is that some studies suggest an increased risk of bacterial formation.
Zirconia
Zirconia is an option that appeared as an alternative to people who had titanium allergies, so these are ceramic-based implants. Even if the earlier versions of this material had problems like fracturing, it has improved and has become the second most used material for dental implants.
It's biocompatible and bio-safe, and since it's a metal-free option, there are no documented cases of allergic reactions among patients. One possible disadvantage, though, is that zirconia dental implants are relatively new and not as widely used as titanium.
The Location of Placement
There are different ways your doctor can place your dental implants, but most of the time, it will fall into one of these two categories: endosteal and subperiosteal implants.
What Are Endosteal Implants?
Endosteal implants are the most commonly used ones by dental professionals, and they mostly work as an alternative to a removable denture or a bridge. If you need dental implants, your prosthodontist probably recommended you endosteal implants.
Among endosteal implants, the structure can change. There are:
Cylinder types

Bladed types

Screw types
Your prosthodontist or dental specialist will help you know which one can be the best option.
They are called endosteal or endosseous because it's an implant that your doctor will place inside your jawbone, taking the place of an artificial root. The healing process lasts a couple of months since you have to wait for the bone and tissue to heal around the material used.
Overall, endosteal implants are the most used choice. All the options recommended in this article include this type of implant.
A subperiosteal implant was historically used with patients that didn't have enough bone height. Today, though, they are used much more infrequently. Subperiosteal implants are placed within the gum tissue instead of inside it like the endosteal option. This way, the metal is visible through the gums.
An advantage of subperiosteal implants is the quicker recovery process. But, the main disadvantage is the low level of stability these implants have. Since they are not placed into the jawbone, the stability is only provided by the soft tissue and not the bone.
Still, that doesn't mean subperiosteal implants don't work. Rather, this system still gives more stability than dentures but less than endosteal implants.
The Treatment Methods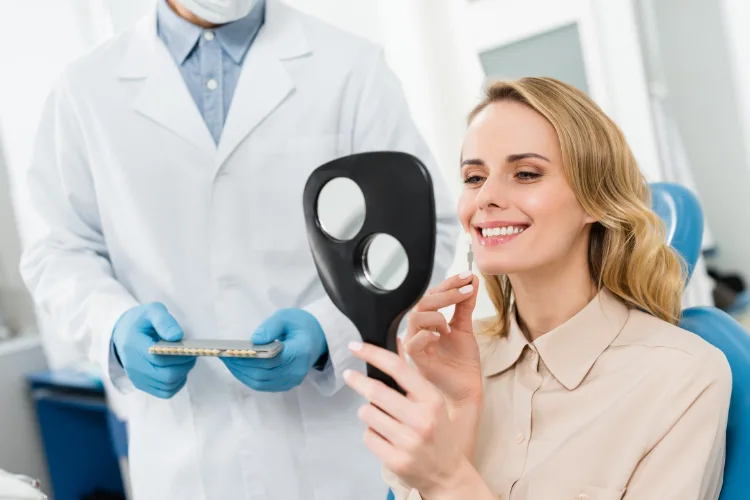 Last, but not least, another way to categorize dental implants is with the treatment method used. The most common implants include:
Teeth in a Day.

These are also called

"immediate load" dental implants

. It's a perfect option for people who want fast results, and they give the patient a set of temporary teeth right after the appointment. A couple of months later, you can have the permanent prosthetic placed, after the temporary tooth heals.

Single Tooth Implants.

This option is for people with only one missing tooth, or just a few missing teeth in different places.

Multiple Tooth Implants.

This is an available option mainly for people who have multiple missing teeth.

Mini Implants.

As the name suggests,

mini implants

are smaller implants. Their principal function is to stabilize a denture, but they can also support a crown.

All-On-4 Treatment Option.

The All-On-Four treatment option is for people who have lost almost all their teeth, whether gum disease or decay, but want fewer implants placed in their dental arch.

Two-Stage Dental Implants.

Most types of dental implants fall into the category of "two stage" dental implants. They're called this because the first appointment involves a surgical procedure where a doctor will place the implants in the patients' jawbone. Months later, the doctor will place the tooth and abutment.
My Selection Criteria
Understanding how dental implants work is part of the journey of getting to know which ones are the best. Because you're now an expert on the different types of dental implants out there, it's now time for me to show you the top Clear Choice Alternatives.
Even if that's what you came here for, I think it's only fair that before showing you which dental implants brands I picked, you need to first know the criteria I used. So let's take a look at the criteria really quick:
Their overall trustworthiness.

If the company gave me the impression that it was trustworthy, then it was going on the list. Even if those brands cover the health market, they can get competitive and go as far as making promises to the patient to never fulfill them just to get clients.

The level of technology used.

Treatments of any kind change every year. So, if I show you the best dental implant choices, you can be sure these companies have the last technology in the market. Considering that dental implants last for a lifetime, you really wouldn't want outdated dental implants from the 1980s, would you?

The available dental implants systems.

This consideration goes hand in hand with the level of technology. Some of the companies have different dental implants systems. That way, there are all kinds of options for the patient depending on characteristics like age, bone density, among others.

The longevity of the company.

The number of years a company has been offering its services to the patient is crucial. It means they have understood the patients all those years while working in a way to make the patient's experience better. I also took into account the years of different research and studies they had related to dental implants, as well.
My Product Recommendations
Now, this is the moment you have been waiting for. What exactly are my top Clear Choice alternatives? Luckily for you, there are many different options to consider when looking for the best dental implants. The dental implants market is definitely competitive, and with more than 35 brands in the world, I had to pick the best five to show to you.
When making this decision, you have to consider the pros and cons of each brand. Dental implants vary depending on the brand, and it's up to you to see which one adapts to your needs when making the final choice.
Below, I show you the best five Clear Choice alternatives for picking your dental implant brand.
Nobel Biocare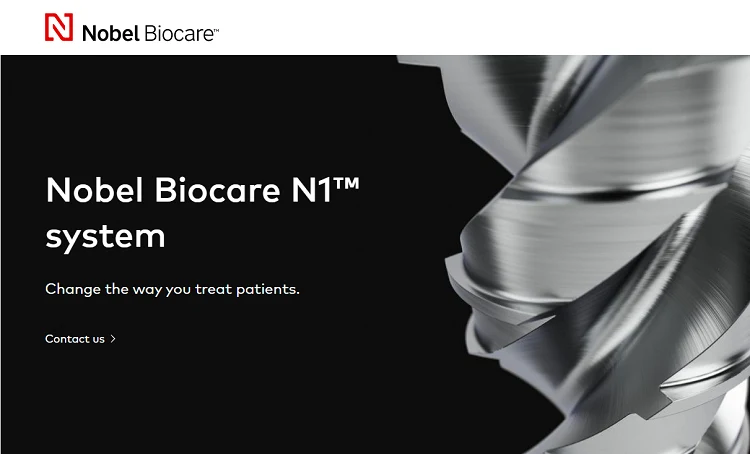 This company may be one of the newest ones on the list, but that doesn't take away the merit of being probably the most known dental implant company out there. This company started in 2002 in Sweden, and since then, has been rising its way into becoming the leader when it comes to dental implants.
Even if the company is still relatively young and started in 2002, the research behind Nobel Biocare goes back to more than 50 years ago. Their use of titanium, as well as a state-of-the art material called "TiUnite," makes them an outstanding company for the manufacture of dental implants.
Pros
The dental implants are made of Titanium Grade 4 with a

TiUnite surface

, making them the gold standard for this dental treatment.

The company offers a 10-year guarantee for every dental implant.

Dental specialists consider Nobel Biocare as the number one pioneer at implant technology.

The material allows an increase in the surface, making these dental implants a good option for patients with conditions like low bone density.
Cons
High technology comes with a price. In other words, Nobel Biocare is not the cheapest option.
BioHorizons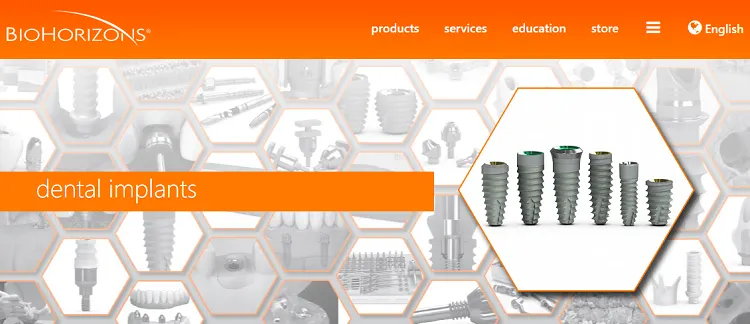 This company isn't as famous as Nobel Biocare or Straumann, but BioHorizons is still a solid choice to consider when weighing the options to pick a dental implant brand. It's a company from the USA and was founded in 1997.
Experts estimate that this company covers 7% of the dental implant market. Even if their dental implants are expensive, they still are premium products, so I can say the higher price is justified. This company became more famous after they launched the tapered dental implants family.
Pros
Their dental implants count with Laser-Lok® technology, almost unique to this brand.

The

Laser-Lok® technology

makes osseointegration easier, improving the patient's healing process.

BioHorizons has a line of dental implants like the Tapered Plus, Tapered 3.0, and Tapered Pro, each type with different specifications to suit individual patient cases.
Cons
This brand represents one of the most expensive dental implants in the market.
Straumann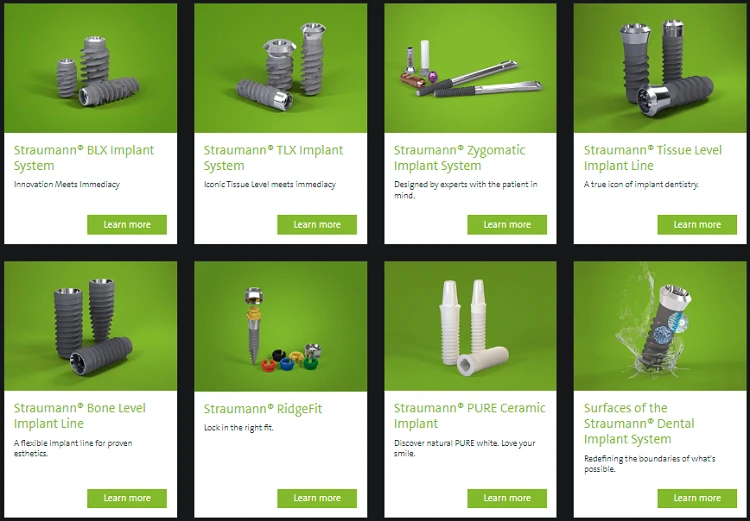 I couldn't make a list of dental implants without talking about one of the best dental implant brands out there. Straumann it's one of the biggest companies and most famous ones, and it's no wonder. It offers a mix between high quality and price.
Straumann is a Swiss brand founded in 1954, and since then, this company has worked developing materials for different dental procedures, including dental implants. As one of the most popular dental implant brands out there, dental providers clearly trust this company for their patients.
Pros
Straumann implants are among some of the most commonly used ones, and doctors have proven their effectiveness in thousands of patients.

Dental specialists consider this company a global leader because of its innovation and advanced technology.

The dental implants are made of titanium, a safe material that guarantees no secondary effects when used on your body.

These implants have an innovative implant surface that stimulates bone cell attachment, making the healing time shorter when compared with other dental implant brands.
Cons
Not everyone is eligible for this type of treatment. For instance, heavy drinkers and smokers have a higher risk of complications after the surgery, such as dental implant rejection or tissue infections.
Dentsply Sirona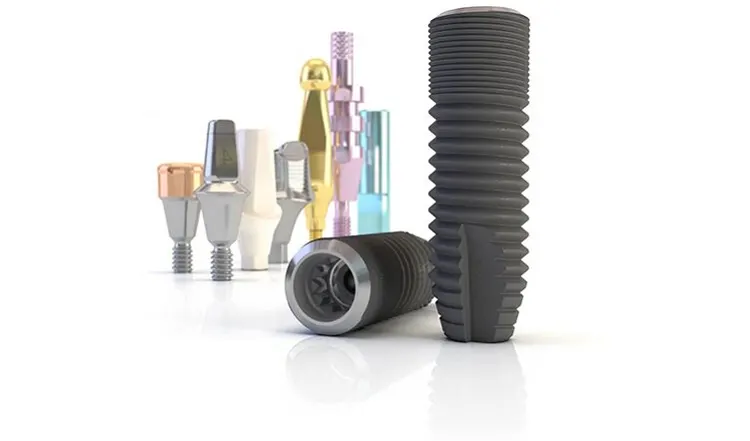 This company was founded in 1899, but it merged with Gendex Corporation in 1993. Even if its two first dental implants were Swiss-based, the rest of them have been made in the USA.
In addition to dental implants, Dentsply Sirona offers surgical instruments and different types of dental restorations, as well. Because of all of those services, Dentsply Sirona is right now at the top five best dental implants options in the world.
Pros
They offer different dental implants systems like Ankylos, Xives, and Atlantis.

They recently launched the Astra Tech Implant EV. The brand considers this a better version of an implant they already had.

Different doctors say they like working with the

Astra Tech Implant EV

because it assures more primary stability and has better handling than other alternatives.

Their dental implants are made of Titanium Grade 4 and OsseoSpeed®, a modified surface that helps the recovery to be quicker.
Cons
Even with their innovative technology, it falls short compared to Straumann and Nobel Biocare in the scope of quality.
Zimmer Biomet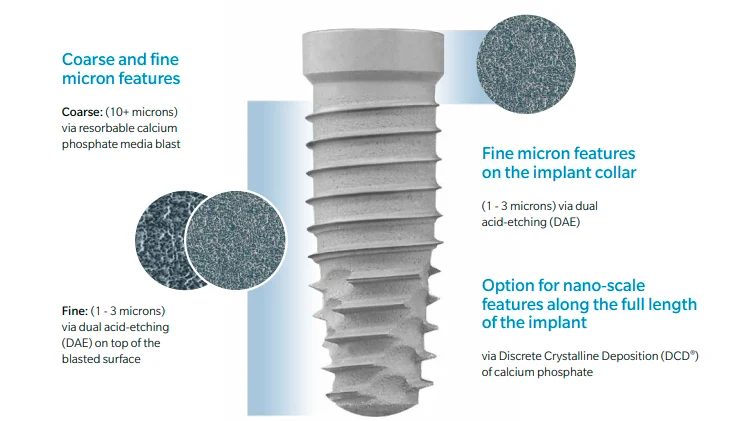 This brand was founded in 1927, and it's a USA-based company, originated by two separate companies that used to produce aluminum. Like BioHorizons, this company takes up to 7% of the dental implants market.
Today, Zimmer Biomet mainly focuses on sports injuries rather than on dental implants. Even so, it is still a well-known company for making good quality ones, especially the T3 Implant.
Pros
One of the main objectives of this company is to achieve aesthetic results, making this a great choice if that's what you're looking for.

Unlike other options in this list, the Zimmer Biomet dental implants have an Osseotite® Surface that reinforces the aesthetic goal.

The Osseotite® Surface technology is safe, and there are no increased complications when specialists compare it to other options.
Cons
Even if they offer dental implants to everyone who may need it, the T3 Implant is for patients that have suffered jawbone trauma.
My Tips for Choosing The Right Dental Implant Specialist
You now know some of the alternatives available for your future dental implant surgery, and that's a great step in empowering yourself to choose the best dental implants for yourself. Even so, there are other questions you need to ask yourself, like who will be your dental implant specialist?
Your general dentist might seem like the most obvious idea, but that's not always the case. Dental implant surgery is a complex type of surgery, and the dentist needs to have special qualifications to perform it.
To make sure that you're making the right decision, here are some tips for choosing the right dental implant specialist:
Do your research about the dentist.

If a dentist is well known, you will most likely find information about the dentist's experience. There's no need to make such a detailed investigation, and sometimes it's enough to ask questions to past patients you may know, like your family or friends.

Go to a full-service practice.

If you're getting dental implant surgery, then you'll need help from

different specialists

. If they're all in the same place, it will be better in the long term, as they'll be able to handle your case accordingly. You don't want to be jumping from one

practice

to another when undergoing dental surgery.

Make sure the dental office has the best technology.

Despite being a largely outpatient procedure, dental implant surgery can be very serious. Therefore, the clinic has to have the latest technology so they can perform the surgery without any extra complications.
My Advice for Taking Care of Your Dental Implants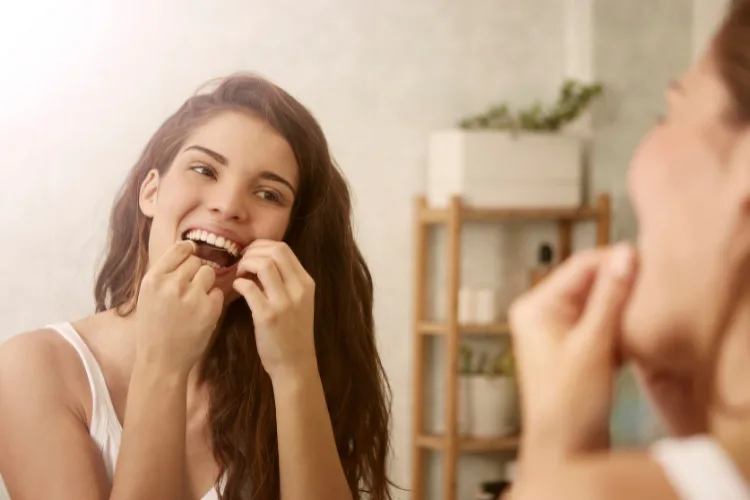 Once you finally do get your new dental implants, how exactly do you take care of them? The journey itself doesn't end with you getting dental implants. On the contrary, once you have your dental implants, there are ways to take care of them if you want them to last.
The main objective is to avoid bacteria that can destroy the tissue surrounding it. In the worst-case scenario, you can even lose the implants, and all of your efforts would then be wasted. But, how do you avoid this?
Use a Softer Brush
It might seem like an unnecessary tip, but you may have to change your toothbrush after getting dental implants. Most of them have rough bristles that could damage your dental implants. You can try using softer nylon brushes that'll be more gentle on your implants.
Floss Every Day
It is always essential to flush, but this becomes more significant if you have dental implants. While the implants themselves aren't vulnerable to dental caries (cavities), you can still develop gum disease. To avoid implant failure, be sure to floss (with either conventional dental floss or a water flosser) at least once a day.
Avoid Alcohol and Smoking
Ditching unhealthy habits is always good. However, dental specialists recommend avoiding alcohol and smoking if you have dental implants since they can't slow down the healing process.
Avoid Hard Foods
Any hard or sticky food can damage your implants. Hard candies, potato chips, or crusty bread sound tasty, but your dental implants can end up damaged if you eat them. Once your dental implants heal, you can start introducing those foods back into your diet again.
Frequently Asked Questions
Conclusion: My Top Clear Choice Alternatives
The dental implants market is really vast, so it can be hard to know which one is the best option out of many dental implants brands and companies that dedicate part of their manufacturing to making them. If I had to pick one, I would choose the Straumann Dental Implants.
This company has earned the trust of hundreds of dentists and orthodontists in the world, so I would definitely put my trust in them if I ever found myself needing to get dental implants. They have several dental implants systems with different features that adapt to every patient's needs, making them a superior company over the many other brands out there.
Dentists expect that in the coming years, technology will advance even further. That would mean even more options for dental implants that allow individualizing each patient's needs. And with dental implants restoring smiles across the globe, hopefully we'll all be beaming with confidence in the near future!
Looking for more interesting readings? Check out: