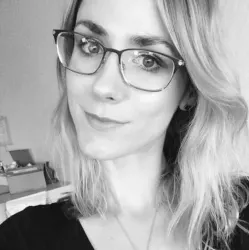 Latest posts by Karyl Trejo
(see all)
The Oral-B 6000 vs Oral-B 7000 both promise the staple Oral-B features and a lot more, but they're both rather different from each other.
Oral-B launched its first electronic toothbrush back in 1950. It has since spawned a whole line of electric toothbrushes presenting top-of-the-range designs and groundbreaking features that promise a professional cleaning experience with every use. Today, Oral-B is the industry standard, a household name for superior yet accessible oral hygiene technology for people from all walks of life.
Electric toothbrushes are recommended by dentists for their superior plaque removal, especially around the tricky gum line. Oral-B's toothbrushes are also equipped with nifty features such as a timer that alerts you each time you need to switch to clean a different part of your mouth, and sensors that allow you to use the exact right amount of pressure.
The brushes can also switch between several modes, making them perfect for people with sensitive teeth who may find brushing with regular toothbrushes difficult or uncomfortable.
If you think that you might want to try an Oral-B toothbrush, keep an eye out for Oral-B's latest additions to their SmartSeries – a line of electronic toothbrushes that are a combination of the latest of Oral-B's technological additions and a modest price tag. The Oral-B 6000 vs Oral-B 7000 both promise the staple Oral-B features and a lot more, but they're both rather different from each other.
That raises the question: which of these should you add to your own shopping cart? Let's compare the two products to help you make that decision.
Key Differences Between Oral-B 6000 vs 7000
The Oral-B 6000 has only 5 cleaning modes compared to Oral-B 7000's 6 cleaning modes.

The Oral-B 7000 is compatible with many different brush heads.

The Oral-B 7000 has longer battery life.

The Oral-B 7000 comes with a travel case.

The Oral-B 7000 cleans 300% more plaque than the Oral-B 6000.

The Oral-B 6000 is much cheaper than the Oral-B 7000.
The Similarities Between Oral-B 6000 and Oral-B 7000
Both toothbrushes share many similar features, including the SmartCircle, Bluetooth Technology, timers, and pressure sensors.

Both toothbrushes sport a similar, user-friendly, and ergonomic design.

Both offer the same 2 year warranty period.
A Closer Look At The Oral-B 6000
If you've been struggling with keeping track of your oral hygiene habits, Oral-B's Genius 6000 Electric Toothbrush (or Oral-B 6000 in short) might be the perfect toothbrush to suit your needs.
Not only is it a state-of-the-art product recommended by professionals, but it's also approved by buyers as one of the most comfortable and easy-to-use toothbrushes that are packed with a variety of features that were included keeping the consumer in mind. Just in case you were wondering, yes, these toothbrushes are waterproof too!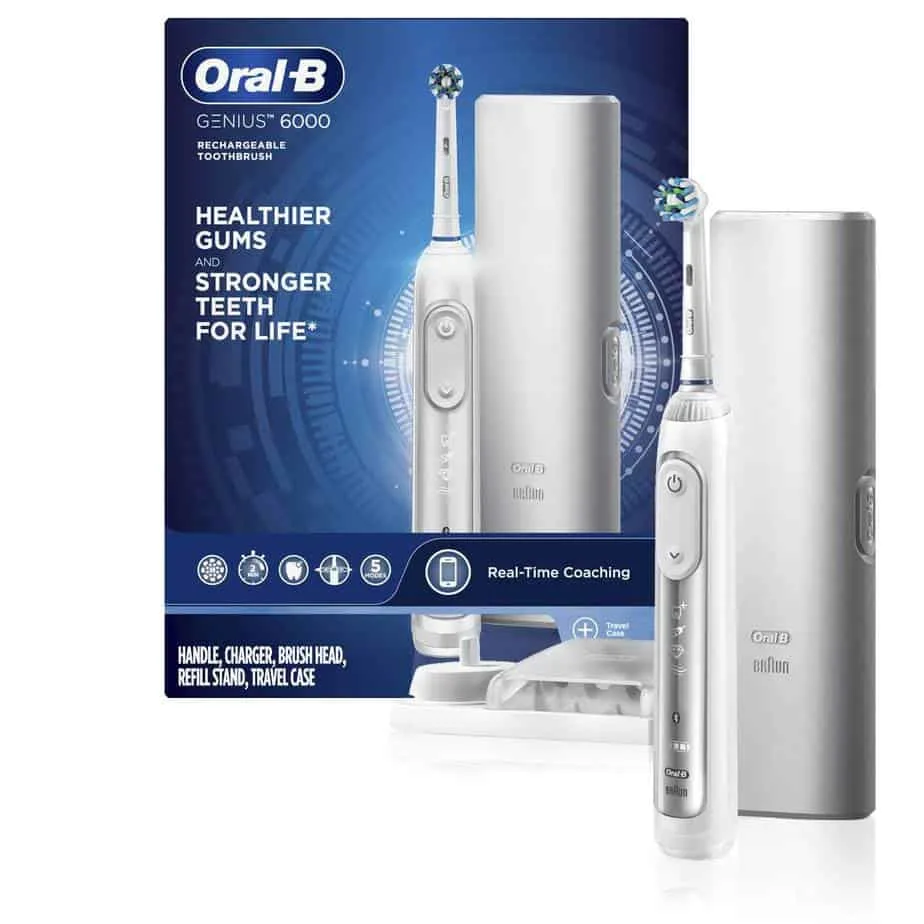 Features
The more notable features of the Oral-B 6000 include:
Premium-Built Brush Head
Programmable SmartRing
Real-Time Feedback
5 Cleaning Modes
Timer and Pressure Sensor
Let's go ahead and take a closer look at these impressive features.
Premium-Built Brush Head
The most obviously important part of a toothbrush is, of course, the brush head. The Oral-B 6000 features a well-rounded brush head that is safe to use on the sensitive parts of the mouth and supple enough to reach even the deepest crevices. The round brush head encircles each tooth completely to ensure that there are no blind spots while cleaning.
The oscillating movement also has a unique cleaning method. It first breaks up the plaque and then sweeps it away, providing 300% more plaque removal than the toothbrush promises.
Programmable SmartRing That Offers Feedback While You're Brushing
The SmartRing is a fun feature of the toothbrush that's connected to the other features of the toothbrush and delivers real-time feedback to keep your brushing experience guided and maximize comfort and cleaning.
The ring has pressure alerts and is connected to the timer, which alerts you when you have to switch brushing modes. It also rotates 360 degrees so that it's visible to you no matter what angle you're brushing in so that you can keep an eye out on its alerts whenever.
Real-Time Feedback That Can Be Monitored By Your Dentist
The 6000's Bluetooth Technology allows you to store the data saved by your toothbrush in your smartphone. Not only is this a helpful tool to track and change your brushing habits, but if you're someone with an oral condition, this data can be of great help to your dentist while analyzing and monitoring your oral hygiene habits.
This data is accessible through the Oral-B app, which also allows you to plug in your dentist's recommendations that you'll be reminded of while brushing your teeth.
5 Cleaning Modes
Oral-B has several cleaning modes keeping individual needs in mind. The modes can be switched anytime while you're brushing. These modes include:
Daily Clean

Sensitive
Whitening
Gum Care
Pro-Clean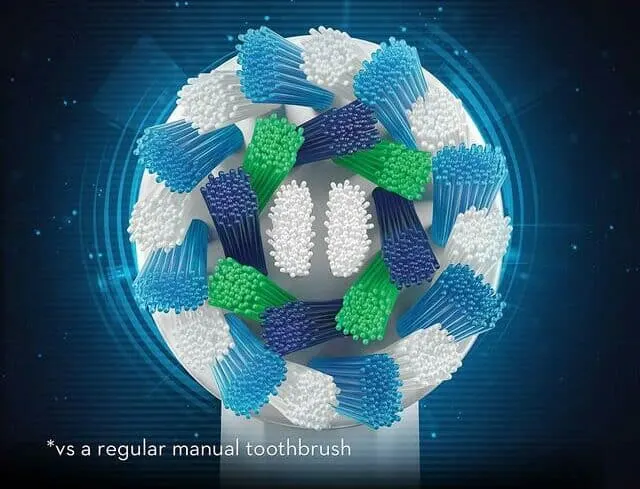 Daily Clean
A standard cleaning mode that follows the standard brush head oscillating standard as well as the standard bristle pressure. This mode is perfect for cleaning regular teeth after a full day's worth of eating and drinking.
Sensitive
A mode intended for those people with sensitive teeth, the brush head, under this mode, rotates at a lower speed for a gentler cleaning experience.
Whitening
The teeth-whitening mode is designed to help clean stains off your teeth and polish them thoroughly to showcase an unmatched sheen. Under this mode, the brush head's oscillating speed will switch up while you're brushing to optimize polishing.
Gum Care
One of the reasons why dentists advise against using hard toothbrushes is because they cause severe gum damage. Oral-B 6000 boasts of a special gum care mode that allows you to brush gently around the gums and stimulate them to remove as much plaque as possible from the gum pockets.
Pro-Clean
The pro-clean mode moves the bristles more swiftly for an extremely thoroughly clean.
Timer and Pressure Sensor
One of the most useful functions of the 6000 is the brushing timer. That's the ideal time you should dedicate to brushing your teeth, as suggested by dentists. Not only that, but it also has timers set to notify you after every 30 seconds to clean a different section of your mouth, ensuring that you have a deep and thorough cleaning session.
Applying too much pressure while brushing a certain area can damage it, and that's what pressure sensors are for – to alert us if we exert more pressure than we should. Connected to the SmartRing, the sensors will alert you if it detects uneven pressure.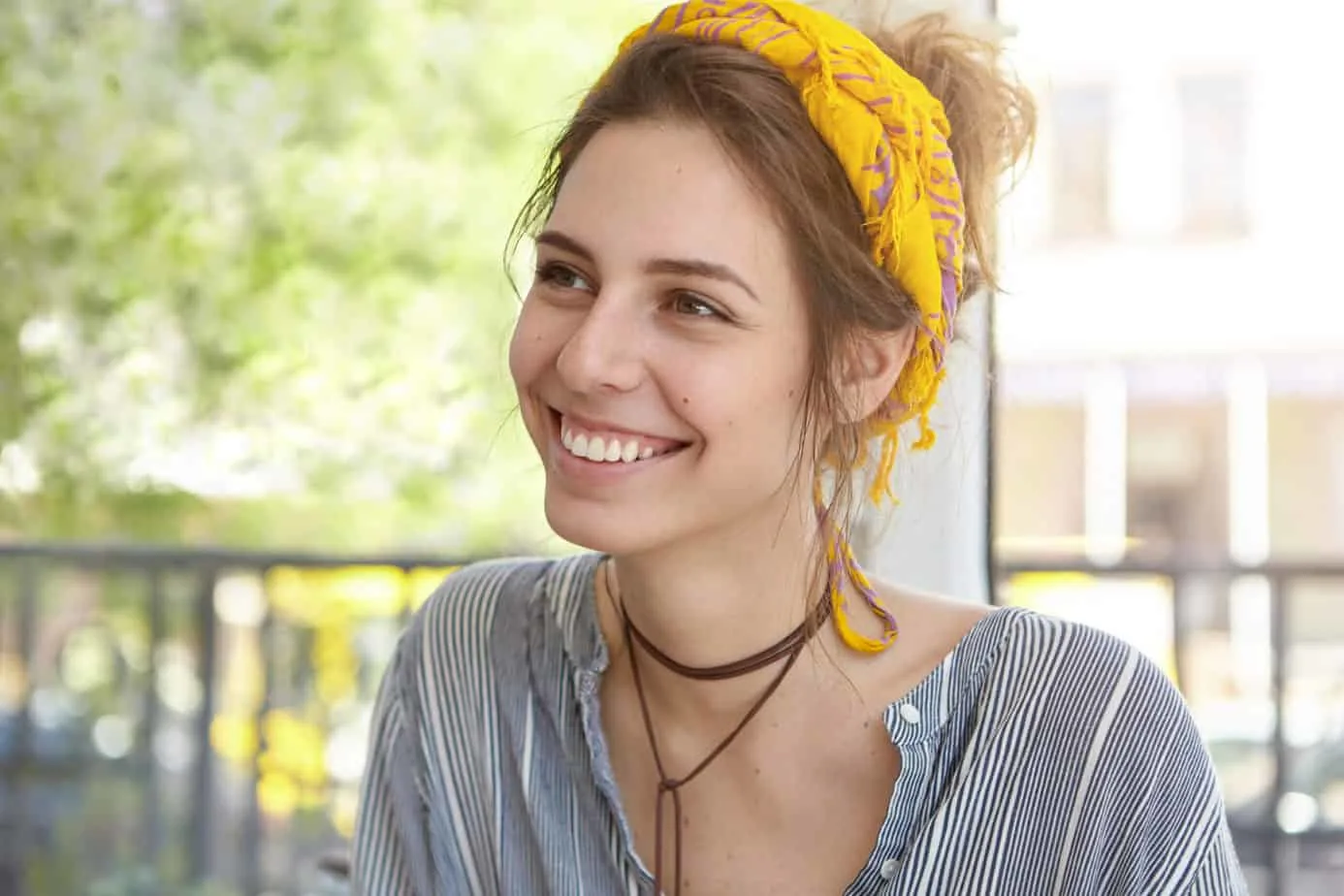 Pros
Comes with 4 extra brush heads, which is essentially a year's supply.

Features different cleaning modes to suit people with different types of teeth and cleanses sensitive areas gently.

Features Bluetooth connectivity like other, more expensive Oral-B products.

Monitored brushing guide that guides you to brush your teeth the way your dentist recommends.
Cons
The brush heads may seem too difficult to clean thoroughly.

Users with smaller hands may find it difficult to use the toothbrush, keeping the larger size of the product in mind.

Some users find the positioning of the speed button inconvenient.
How The Oral-B 7000 Matches Up
Following the success of its predecessor, Oral-B's next addition to the SmartSeries was the Oral-B 7000. This toothbrush had a new brushing mode, more unique care-intensive brush heads, and assured more plaque removal. The brush still contains all the features that the 6000 had, and can be considered a minor upgrade from its predecessor.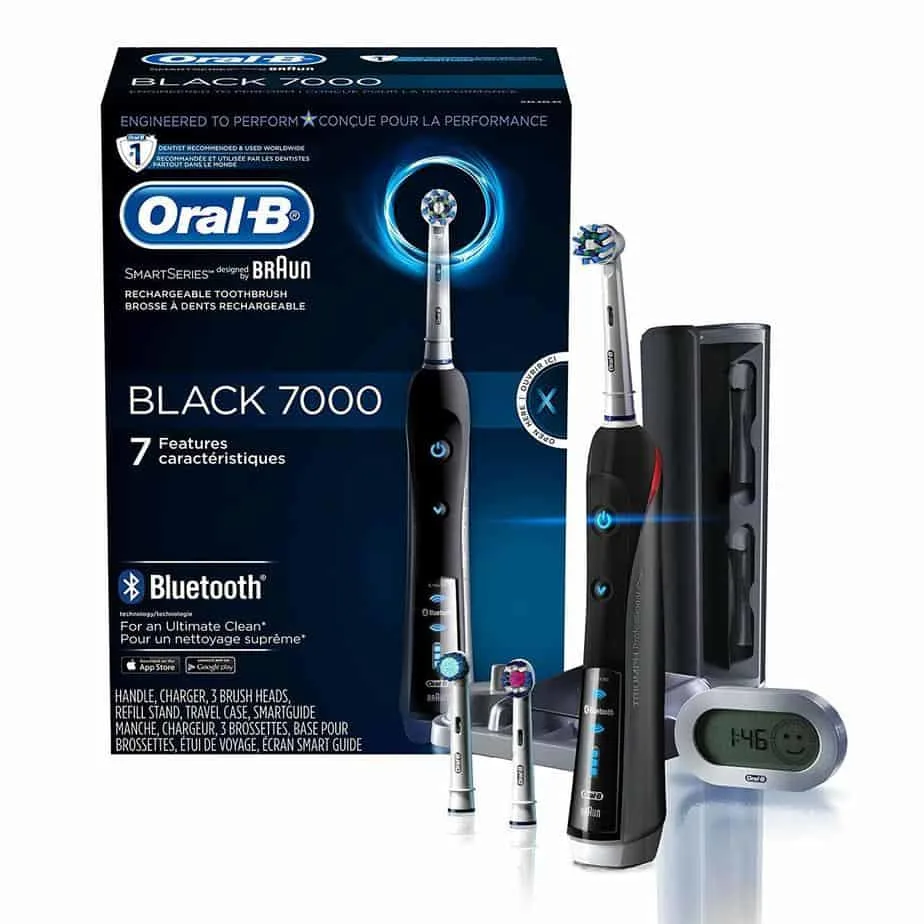 Features
Just like the Oral-B 6000 has many notable features, so does the Oral-B 7000. These include:
A New Brushing Mode
Improved Plaque Removal
More Brush Heads
A Travel Case
Let's look into what unique features the 7000 has to offer in greater detail.
A New Brushing Mode
Besides the 5 other brushing modes that we discussed earlier, the Oral-B 7000 also has a new tongue cleansing mode. Tongue cleaning is one of the trickier parts of their daily oral hygiene habits for many, and the new mode provides for a gentle tongue cleansing experience that allows the toothbrush to remove every follicle of the tongue.
500% More Plaque Removal
The new toothbrush is faster and more meticulous with its cleaning approach and cleanses 300% more plaque than its predecessor.
More Brush Heads
Oral-B has developed specialized brush heads for people with different needs that are all compatible with the 7000. These new brush heads are:
CrossAction

FlossAction

Dual Clean

3D White

Precision Clean

Sensitive Gum Care

Deep Sweep
You can switch between these brush heads anytime you like with ease to have the most personalized and comprehensive cleaning experience.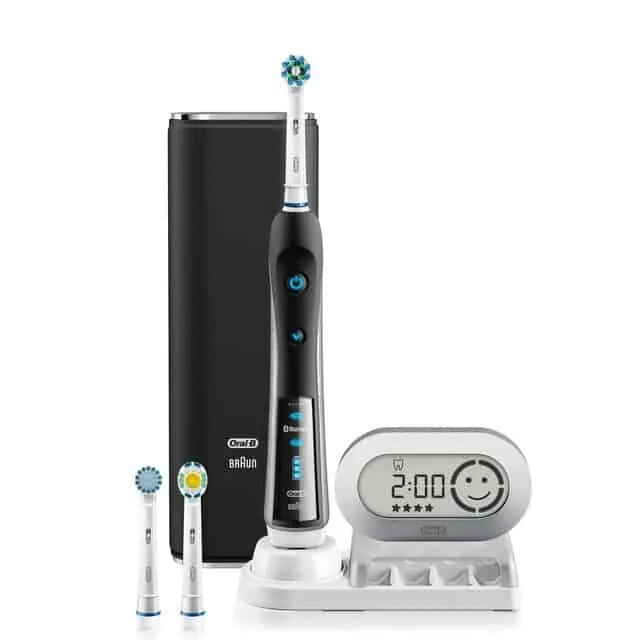 Comes With A Travel Case
A common gripe of all the Oral-B customers was how difficult the brush was to carry along while they were heading elsewhere for a while.
With this new update, Oral-B has solved the mobility issue by providing a handy and thoughtful travel case with the toothbrush that allows you to store your toothbrush, brush heads, charger, and other oral hygiene amenities in one place for a better traveling experience. Don't worry about not bringing along your charger or brush heads ever again!
Pros
The new cleaning mode is perfect for people with highly sensitive teeth and also turns the brush into a two-in-one device with the addition of a tongue cleaner.

Better plaque removal.

Longer battery life.

Travel case allows you to use the toothbrush on the go.

A perfected pressure sensitivity feature.
Cons
The toothbrush can take up to 12 hours to fully charge.

For what it has to offer, the brush seems fairly overpriced at $179, a whopping $40 margin from its predecessor.

The toothbrush tends to get noisy while you're using it.
Alternatives To Oral-B
Philips Sonicare HX6817/01 ProtectiveClean 4100 Rechargeable Electric Toothbrush
A modestly priced electric toothbrush from a reputed brand — the Philips Sonicare 4100 is quite the combination. If you find electric toothbrushes flashy but don't want to invest in a three-digit product just as yet, the Sonicare 4100 is just the toothbrush for you.
Priced at just $40 on Amazon, this toothbrush boasts several features such as a pressure sensor, a brushing timer, and long-lasting battery life, making it the perfect replacement for a standard Oral-B toothbrush. The toothbrush also has a great reputation for being a thorough cleanser whilst treating your mouth as gently as possible, so we believe that this one's a bang for the buck.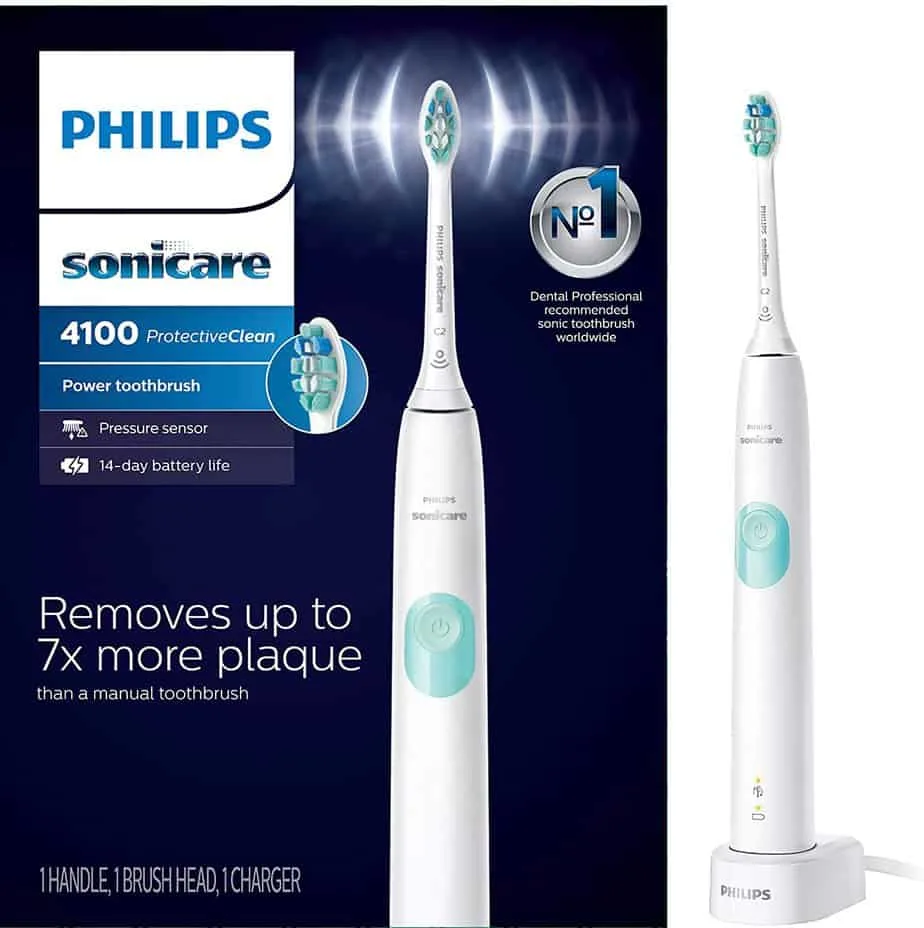 Philips Sonicare Expertclean 7300, Rechargeable Electric Toothbrush
If you can't get an Oral-B toothbrush for some reason, keep a lookout for the Expertclean 7300, it's the closest replica you could get. The whole of Philips' Sonicare line is quite a lucrative set of brushes for any electric toothbrush frenetic to look at, but the 7300 is the one that sports all the premium quality build and features that Oral-B toothbrushes are known for, which is another reason why it comes at a similar price.
The 7300 lays special emphasis on gum care and restoration, so if you're someone who has been suffering from gum diseases or has always had bleeding/swollen gums, this one's the right toothbrush for you.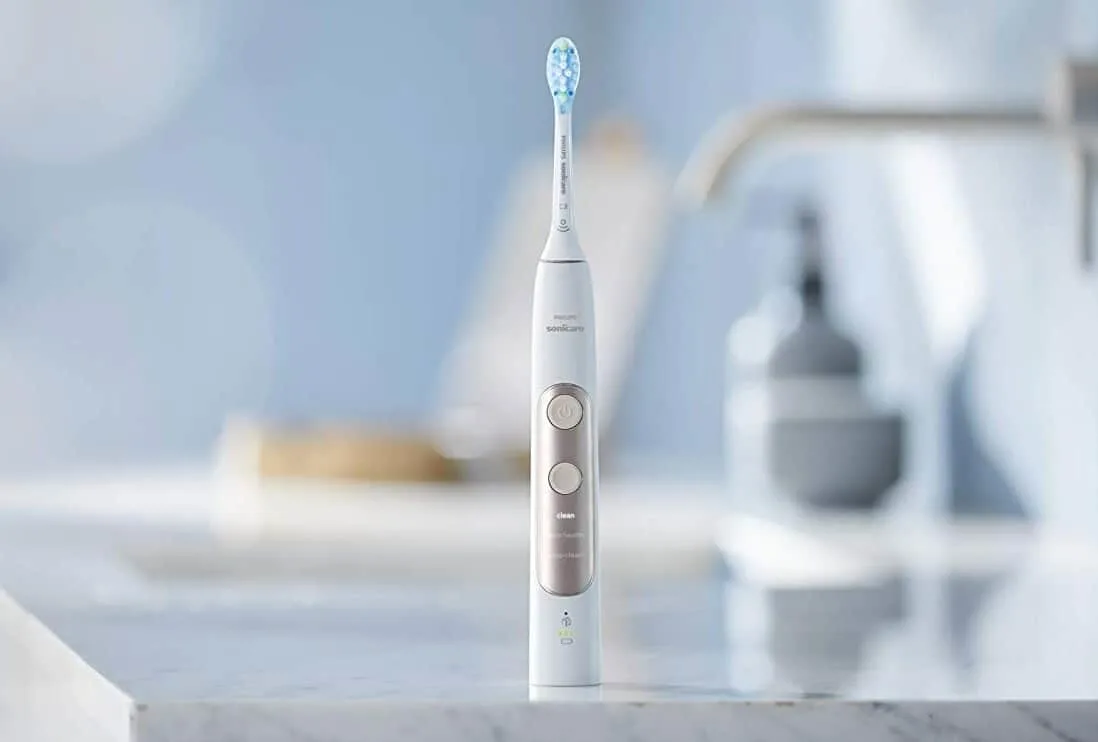 Waterpik Sonic-Fusion Professional Flossing Electric Toothbrush
An interesting alternative, but promising nonetheless, is the Waterpik Sonic-Fusion toothbrush-flosser combo. This two-in-one device allows you to brush, floss, and even do both at the very same time.
Besides this cool little feature, the brush also has the standard two-minute timer and an additional 10 pressure levels. The toothbrush also comes with a luxurious travel case and offers a 3 year warranty period.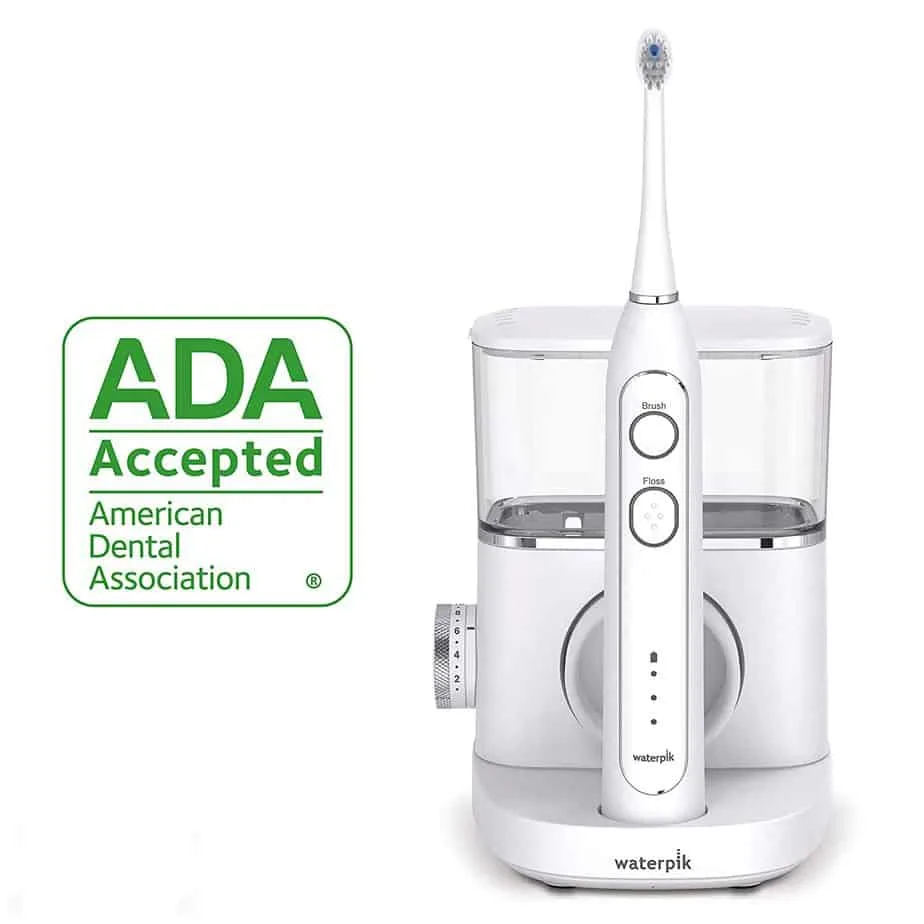 Colgate 360 Sonic Battery Power Electric Toothbrush with Floss-Tip Bristles and Tongue and Cheek Cleaner, Soft
Our final pick is priced at just $5 on Amazon, but that doesn't mean you should be looking down on it. The Colgate 360 is the perfect beginner's toothbrush. Although it doesn't have fancy trackers, it does its job at cleaning pretty well.
The toothbrush has floss tips for a gentler brushing experience and has a built-in tongue and cheek cleaner. The toothbrush runs on AAA batteries, so you don't have to worry about long charging hours, too.
Frequently Asked Questions
Question: Is Oral-B 6000 worth it?
Answer: At its price point, Oral-B 6000 most definitely is a toothbrush that's perfect for the individual who wants to take his oral care to the next level. Its cutting-edge technology not only makes brushing a lot more effective but also allows you to track your brushing habits and make necessary changes to them.
Question: What's the difference between Oral-B 6000 and 7000?
Answer: An extension to the SmartSeries, Oral-B 7000 is different from its predecessor in the following ways:
• 7000 has an additional 6th cleaning mode, the tongue cleaning mode.
The toothbrush is compatible with 7 additional brush heads, unlike the Oral-B 7000.
• Oral-B 7000 cleans plaque 300% better than Oral-B 6000.
• Oral-B 7000 comes with an additional travel case.
Question: How often should you change your electric toothbrush's head?
Answer: You should change your brush heads when they become considerably worn out, but a good rule of thumb is changing them every 12 weeks. Worn-out brush heads won't be able to perform their cleaning action as well, and in some cases, may even end up injuring you.
Question: How do you clean an electric toothbrush head?
Answer: The easiest way to clean your brush head thoroughly is to soak it in bleach water for an hour and then rinse it. This helps kill bacteria and remove dirt from any hidden crevices.
Our Verdict
While both toothbrushes reflect Oral-B's meticulous approach while designing their products and their constant uphill need to introduce new technologies to the world of oral care, our favorite of the two products has to be the Oral-B 6000. Considering its price and the newer features that it has to offer, the 7000 just seems a tad bit overpriced and the 6000 just isn't as far behind when it comes to the battle of features.
However, if you're someone who heavily relies on the Bluetooth feature or finds that the original brush head isn't to their liking, the Oral-B 7000 is certainly worth a try. No matter which one you decide to get, though, we hope you have a happier, healthier, more confident smile thanks to the impeccable oral hygiene these brushes can provide!
Check out more comparisons from Oral B Models: