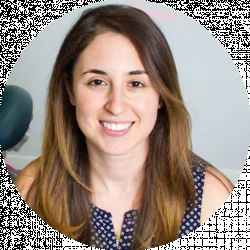 Latest posts by Erica Anand
(see all)
Anyone with dentures understands the importance of having a well secure fit to avoid that fear of it unexpectedly popping out of your mouth. Dentures can improve your quality of life if you are missing teeth so that you can properly eat, speak, and smile.
But, if you're concerned about your denture slipping, it may cause you to feel uncomfortable and not want to wear them frequently.
Denture adhesive is a necessity for denture wearers. Regardless of the quality of your denture, over time denture fit can change because of bone and ridge deterioration, gum changes, and wearing down of materials. Most dentures need to be replaced after ten years.
To ensure your denture stays put, denture adhesive can give you that peace of mind and avoid the many problems associated with loose dentures.
Cushion Grip is a well-known denture adhesive in the dental community because of its high-quality properties acting as an adhesive and soft recliner to help mold your denture. Cushion Grip also uses thermoplastic polymer technology to gives dentures professional strength and increased security.
However, there are other denture adhesives on the market that all have varying properties, strengths, and weaknesses depending on your needs and budget.
What problems are associated with loose dentures?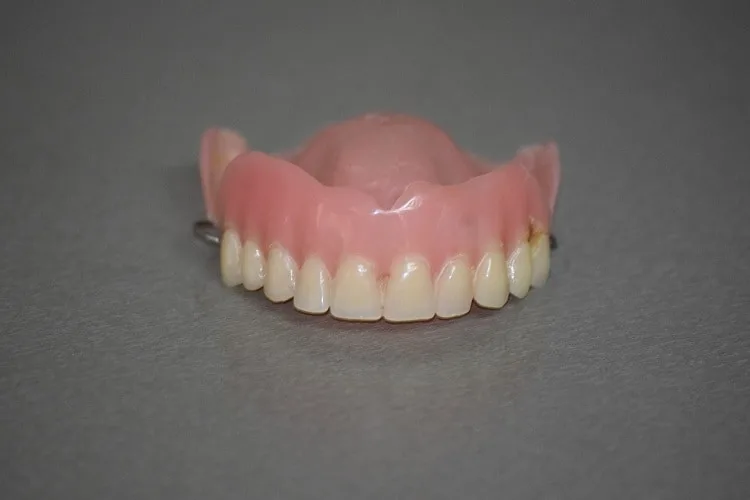 Poor fitting dentures can cause an array of problems for denture wearers. Besides the obvious embarrassment, dentures slipping can affect your overall well being. The following are common problems that loose dentures can cause:
Difficulty speaking

Difficulty eating

Increased headaches

Joint problems with TMJ

Vertigo

Digestive issues including pain and excess gas

Low self-esteem
Instead of worrying about all the issues loose dentures can cause, it is best to invest in a great denture adhesive. Many people will get a new pair of dentures and notice a difference in their fit over a period of time.
This is an important sign and reminder that you should be regularly visiting your dentist to have your dentures cleaned and evaluated for a proper fit. Your dentist can assist you in choosing a proper denture adhesive that will give your prosthetic longevity and comfort.
Alternative denture adhesives
Here is our list of best adhesive for dentures for some of the popular brands of denture glue available on the market. Good denture adhesive is so important to help you feel comfortable and confident with your dentures.
Without good fitting dentures, you risk gum irritation, your dentures falling out, and food getting in between the plates and gums.
Poligrip Super Adhesive

Poligrip is a well-known denture adhesive because they have a broad number of products for denture wearers. Super Poligrip Adhesive Cream is highly recommended because of its long-lasting abilities.
Patients can wear their dentures with Poligrip for up to 12 hours without the need to take their dentures out. This extra-long security helps seal out food debris that can become trapped underneath.
Poligrip has high ratings on Amazon due to its fair price point and ooze-control tip to limit the overflow and waste of denture cream.
Most people prefer this brand because it is safe and does not contain any artificial colors or flavors. Dentists frequently give Poligrip denture adhesive as a sample to their patients because they are very well known to deliver reliable results.
Pros
Completely zinc free

Comes with an Ooze control tip

Seals out food to avoid halitosis and irritation

The brand has proven to help denture remain in place for 12 hours

Affordable

Large product line
Cons
Can cause the denture to become loose if you eat consistently with it
Fixodent

People love Fixodent because it helps keep dentures secure and intact and is highly recommended among dental professionals. Fixodent has excellent ratings on Amazon because it helps tackle gum soreness and delivers on their improved fit and comfort.
Fixodent can be used on full or partial dentures and lasts all day for many people. It is simple to apply and is offered in a thick, creamy texture so it won't run or leak when you apply it.
Pros
Sold in many stores and pharmacies as well as online

Fair price point

Creates an exceptional seal to block food particles out

All-day long-lasting support
Cons
Contains Zinc which is contraindicated in patients with allergies

Concerns of the overexposure of zinc (intestinal issues and nerve damage)
Effergrip

Effergrip is a denture adhesive approved by the American Dental Association (ADA) and recommended by dentists. It is zinc-free and has long-lasting properties that keep dentures secure and comfortable.
If you are looking for a top-notch denture adhesive, Effergrip may be the solution for you because it is free from any health concerns since it lacks zinc and there have been studies showing an improvement in gum health wearing this denture adhesive. Any dental product with the ADA seal shows how reputable the brand and product.
Pros
Endorsed by the ADA

Long-lasting security

Recommended for everyday use

Zinc free formula

No poor after taste
Cons
It is not found in most convenience stores; you have to order it online

Thinner, more watery consistency

Can become messy to use
Naturdent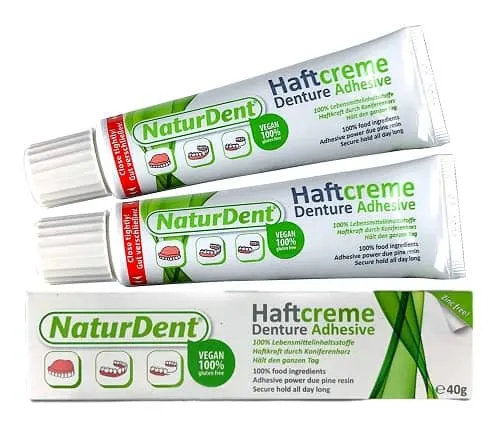 Everyone is always looking for healthy dental alternatives especially when it is a product used daily. Naturdent is a good denture adhesive alternative because it is eco-friendly using all-natural pine instead of petroleum-based products.
Pros
Zinc-free formula

No parabens or harsh chemicals

Healthy alternative
Cons
More expensive than competitors brands

May not provide as strong of a seal as competitor brands
Sea-Bond Denture Adhesive Seals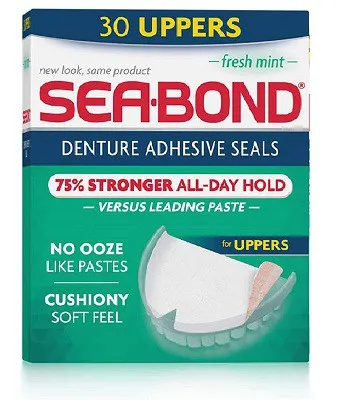 If you are looking for a denture adhesive cream alternative, Sea-Bond may be a good option for you. It does not come in cream but comes as a wafer that is moistened with water and then trimmed to the size of your denture. The adhesive wafers are easily transported and discreet leaving you no cleanup!
Pros
There is no mess like other denture adhesive creams

No horrible after taste

Saves you time in cleaning your gums and dentures
Cons
If you don't place the wafer correctly it can clump up and not be equally distributed on the denture

Each wafer is not reusable

Should be changed if you eat or drink multiple times with denture
Things you should consider when choosing a denture adhesive
Not all denture adhesives are created the same. There are creams, powders, and wafers that all have different strengths. You should look for a denture adhesive that encompasses the best qualities to ensure your dentures are delivering the highest quality of life you deserve.
Long-lasting results
Denture wearers are looking for an adhesive so they can live comfortably and not worry about their dentures slipping.
You need an adhesive that lasts throughout the day so you can comfortably eat, speak, smile, and laugh without fear of your denture popping out. Some denture adhesives last 12 hours while others last only up to 6. Look for one that fits your needs.
Simple to use
No one wants a complicated denture adhesive to apply. If it takes more than a few minutes to apply and wear, then you may want to look for another option.
Affordability
Denture adhesive is a product you will use daily. It should work well but it should also be at a fair price tag so you can consistently purchase it as needed. Most denture adhesives are within $7-$15.
Zinc-free formula
Too much zinc exposure can be a health concern because it can lead to stomach problems and nerve issues. Since you'll be constantly using your denture adhesive, if it is possible, look for one that is free of zinc. If you have any sensitivity to chemicals, you may want to look for an all-natural product.
FAQs
Question: How long do denture adhesives last?
Answer: Most adhesives will claim to hold well-fitted dentures for up to 12 hours. This means you have an entire day of comfortably wearing your denture without needing to replace your adhesive or remove your denture.

However, denture adhesive is not the only factor that impacts how a denture fits. Visit your dentist to ensure your adhesive will assist in the comfort and fit, but ultimately you need a high quality, well-made denture.
Question: Is it safe to have zinc in a denture cream?
Answer: Many denture adhesive products claim to be zinc-free and nontoxic to avoid any long term health problems. Speak to your dentist about using zinc, but usually, it is recommended to use a zinc-free formula adhesive.
Question: Why do I sometimes experience oozing when using denture adhesive?
Answer: This may indicate you are using a tad too much denture adhesive if it is oozing out of the sides of your denture. Try to reduce the amount you are using or choose an adhesive that has a thicker consistency.
Question: How do I use a denture adhesive?
Answer: Most products will include simple instructions on how often to apply. You don't need a lot of adhesives for your denture to remain in place. Too much can only weaken the suction of your denture. After applying the adhesive, hold your denture in place so it remains firm. It may take a few times to get it right.
Question: How often should I clean my denture?
Answer: You should remove your denture each night, brush them gently with a denture cleaner, and soak them overnight to keep them hygienic.
Question: Will I be able to eat or speak properly with dentures?
Answer: This is one of the major concerns for new denture wearers and how it will affect people in different ways. It takes time to get used to your new denture, but over time your mouth will adapt and eating and speaking will be easier.
Question: What should I do if my dentures are loose?
Answer: If your dentures feel loose or don't fit properly you need to schedule a visit with your dentist. Ill fitting dentures can impact your medical and dental health. A denture is not designed to last forever, so you may require a reline or replacement.
Question: What should I do if my dentures are broken?
Answer: Do not try fixing your dentures at home as this can cause further damage to your denture. Schedule a visit with your dentist as soon as you can. Do not use any toxic materials like super glue because it can cause serious health problems.
Verdict
For denture wearers, the adhesive is imperative to ensure comfort and security. There are so many brands of adhesive on the market but rarely do many people discuss the advantages and disadvantages of each brand.
As a dentist, I would always recommend a product approved by the ADA because this means it has gone through a rigorous process of safety and efficacy protocols.
While there are numerous excellent dental adhesives, I would recommend Effergrip as it is zinc-free and decreases people's concerns of health or allergy concerns. It also shows to improve gingival health which is important to your overall well being. Effergrip has all the properties in a dental adhesive that someone should be looking for: security, safety, and comfort.