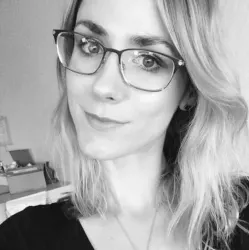 Latest posts by Karyl Trejo
(see all)
While some people may be satisfied with a simple, manual toothbrush, having an electric toothbrush can drastically change the quality of anyone's dental care. With one, you can easily get whiter-looking teeth between each yearly visit from the dentist.
How, though? Well, the reason for this is quite obvious. With any toothbrush, plaque is removed by the scraping action made with the bristles. The more scrapes you do, the more plaque it'll remove.
While a manual toothbrush can remove a good portion of plaque and food residue on your teeth, an electric toothbrush can always remove more by making more scraping movements.
In comes the sonic toothbrush. While this is an electric toothbrush by definition, it deserves a category of its own, especially with the speed at which it makes those scraping movements.
Dazzlepro Elements Review: Is This Sonic Toothbrush Worth It?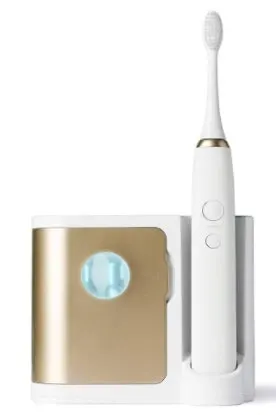 The Dazzlepro Elements is one such sonic toothbrush. On its website, its manufacturer attests that it can make up to 40,000 brush strokes per minute.
But does it live up to the hype? In this review, we will focus on this sonic toothbrush and help you decide whether its price really makes up for what it does.
How Does The Dazzlepro Elements Work?
Like most other electric toothbrushes in the market, the Dazzlepro Elements is a chargeable toothbrush with a replaceable head. The head can be removed, stored, and cleaned in a separate container.
A single order of this electric toothbrush comes with three heads: two large heads and one small head. If you follow the CDC's recommendation on replacing toothbrushes and toothbrush heads, each head should last for about three to four months, totaling nine to twelve months of use after purchase. Afterward, Dazzlepro sells replacement heads in packs of three.
In addition to this, a purchase also provides a charging stand with a UV sanitizer. This sanitizer can carry up to three heads and, right after closing the sanitizer's door, will flash a ray of ultraviolet light for ten minutes. The charging stand can hold both toothbrush and sanitizer on it even during the UV sanitation process.
Normally, the CDC does not recommend cleaning toothbrushes and their heads with UV devices because doing this can break the bristles. However, the Dazzlepro Element's bristles are made thicker than regular bristles, allowing them to withstand UV light much better than other bristles would.
However, this does not necessarily translate to a gentle cleaning. The bristles can feel rough when the toothbrush has been used at top speed.
Meanwhile, the toothbrush has four cleaning modes. The user can change modes by pressing a button on the handle. Each press will cycle through each mode and light up an LED indicator above its name.
WHITEN mode is the fastest setting. When used right, it can remove teeth stains which can't be done using a manual toothbrush.
SOFT mode, meanwhile, is the slowest setting. While Dazzlepro recommends this mode for people with tooth sensitivity, this can also be a good mode for those who are just starting out.
MASSAGE mode is a bit like soft mode, but with a pulsing rhythm that is meant to massage and stimulate the gums.
CLEAN mode is the Dazzlepro Element's standard default. This can feel like it is somewhere between whiten and soft mode.
All of these modes will run for exactly 2 minutes. There is a 30-second timer that gives a brief pause, signaling the user to change position.
Despite the names of the modes, however, the user is free to use them in any way they may wish. For instance, some people may find the soft mode to be a good standard mode despite not having tooth sensitivity.
Lastly, the battery is meant to last for at least ten days of continuous usage. It will take 24 hours to get a full charge. However, the electric charger can be left on the charging stand when not in use. An internal safety switch prevents the battery from overcharging.
How Much Does It Cost?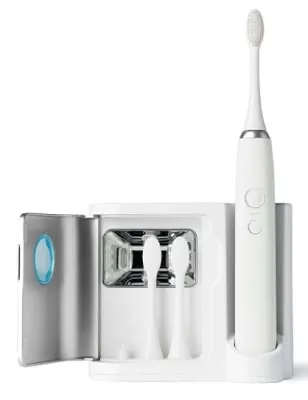 While Dazzlepro sells the product on their website at $125, retailers seem to sell it for a much lower price than the suggested retail price. In fact, you can even buy it for as low as $76 at Amazon. That's just a bit more than one half of the original manufacturer's suggested retail price (MSRP).
To get a good grasp on the suggested retail value of the Dazzlepro Elements, the Oral-B 3000 is a rotary electric toothbrush with three modes and a pressure sensor that tells you if you are brushing too hard.
It does not have a UV sanitizer, but it can connect to an app that can analyze and help you manage your gum health. It also has a 2-minute timer that tells you to switch sides every 30 seconds.
The Oral-B 3000 is priced at $109.99 at the manufacturer's site. Therefore, for a product in its price range, the Dazzlepro Elements appears to be a good one.
Furthermore, Dazzlepro sells their brush heads in sets of threes. A set will cost you $19.99 on their website. Again, this is sold at a much lower price at retail shops, going as low as $17.99 per pack of three at Amazon.
What's In The Box?

There are five components you can find in each box when you purchase a Dazzlepro Elements:
A Dazzlepro Elements Sonic Toothbrush handle unit
2 large brush heads
1 small brush head
Charger base / UV sanitizing stand
A user manual
There are also several notable pros and cons to the Dazzlepro Elements, which we will break down for you.
Pros:
The battery can last for a long time
UV sanitizer can keep three heads at the same time
The product can be left charging on the stand without fear of overcharging
The charging stand works on a variety of voltages (100-240V)
Lower price when bought on retail
40,000 brushes per minute is faster than most electric toothbrushes in its price range
UV sanitizer will only light up when the door is properly closed for safety purposes
Ergonomic handle
Cons
No pressure sensor
No travel case
Bulky charging stand
UV sanitizer can only keep Dazzlepro heads and not from other brands
The charging stand can't be wall-mounted
UV sanitizer door can break if not handled properly
Can't set time for UV sanitizer
Despite all the good it has, the Dazzlepro Elements is not quite travel-friendly. The Dazzlepro store does not sell a travel case, nor do they have a light charger without a UV sanitizer.
In fact, most of the problems come from the stand itself. The toothbrush itself is a good product, but it would have been a better product at a better price if you could opt out of the UV sanitizer.
Alternatives to the Dazzlepro Elements
Because of the way that the Dazzlepro Elements is priced in both the manufacturer's site and retail, choosing an alternative can get a bit tricky. In the $125 suggested retail price, you could get a decent sonic toothbrush which largely beats those in the $70 price range.
Following the $125 suggested retail price, the Oral-B 3000 mentioned beforehand is a great alternative. That said, if you want a travel-friendly alternative that is not a rotary brush, you could get a Philips Sonicare 6100 instead for $109.95.

This brush can go for up to 62,000 brush strokes per minute and a battery life of two weeks. You can also have a UV sanitizer for an extra $49.95. However, this would be more expensive, reaching a total of $159.90 when bought separately, or $149.94 at a bundled price.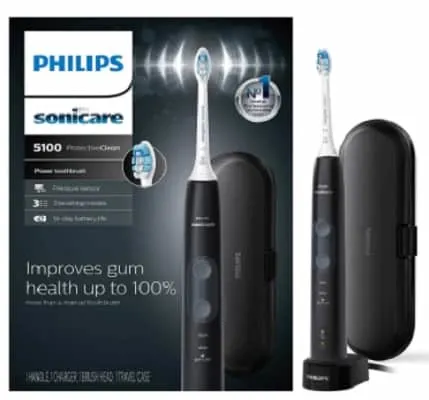 For a sonic toothbrush and UV light combo near the Dazzlepro Element's price range, then, you will need to take a step back and go for a Philips Sonicare 5100. Priced at $79.95, you can have it for a total of $129.90, just about $5 over the Dazzlepro Element's suggested retail price.
This alternative also moves faster at 62,000 brush strokes per minute and has a pressure sensor, which the latter doesn't. We've covered this before in a previous article, and it's definitely a top-notch alternative at its price.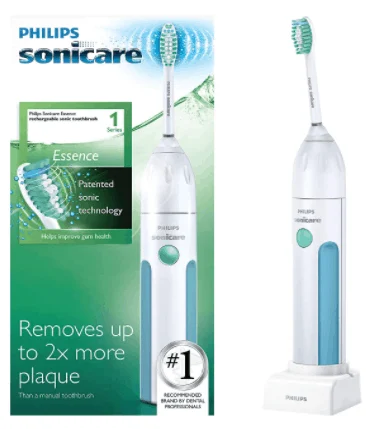 Go to the true retail price of around $70-80, however, and you won't really find a good alternative with a UV sanitizer.
That is where the Dazzlepro Elements has a real edge. Perhaps its only real competitor with a manufacturer-made UV sanitizer would be the Philips Sonicare HX5611, which only has 31,000 brush strokes per minute and is only available through retail at $24.99.
With a separate buy of the UV sanitizer, it will reach a total of $74.94. But since the brush is bought separately in retail, you may want to check if the store has a bundle offer. Even then, though, this one isn't a good alternative at all. It only has one brushing mode and has fewer brush strokes per minute.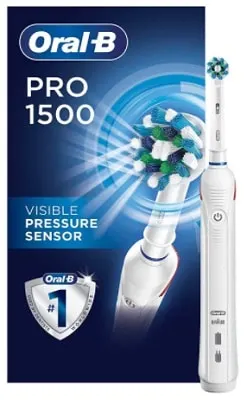 Meanwhile, if you are planning to buy a sonic toothbrush because of difficulties with hand dexterity, then you might want to use an oscillating rotary brush instead.
The Oral-B Smart 1500 is a good choice in this regard. It can make as many brushstrokes as the Dazzlepro Elements can within a minute, while the head spins to give you a better clean. At $79.99, you can lose the UV sanitizer here and have a good brush with a pressure sensor.
Meanwhile, the brush head selections are quite straightforward. Please note that the Dazzlepro Elements is only compatible with its own version of brush heads.
If you are looking for the long term costs of having an electric toothbrush, though, you might find Oral-B brush heads to be much cheaper.
With an Oral-B toothbrush, you can buy a pack of three Pro Gum Care brush heads at the price of $18.69 at Amazon. On the other hand, all Philips Sonicare brush heads will be more expensive than Dazzlepro heads. Furthermore, these brush heads will be much softer than the Dazzlepro's version.
FAQs
Question: Is the UV sanitizer safe?
Answer: While all kinds of miniaturized UV sanitizers can cause harm upon direct exposure, this particular UV sanitizer is safe because it has a protective door that shields you from the harmful UV light inside.
Question: Why doesn't the UV sanitizer light up?
Answer: The UV sanitizer will automatically light up when the door is closed. If it still doesn't, then you might have to contact the supplier for a defective product replacement.
Question: Do I still need to rinse my toothbrush?
Answer: This is highly recommended. For the reason stated previously, rinsing the toothbrush before putting it back in the UV sanitizer helps to remove germs that may not be removed by a single, 10-minute, UV exposure.
Question: The handle heats up when in use. Is this safe?
Answer: This is perfectly safe. You can expect the handle to heat up a little because the motor inside produces some heat while doing its job.
Question: Can I leave the toothbrush on the charging stand while the battery is probably full?
Answer: Yes, you can leave the toothbrush on it and the stand will not overcharge the batteries.
Question: Can I use this in the shower?
Answer: While the Dazzlepro Elements is marketed as a "waterproof sonic toothbrush," the handle has little kinks that might allow water to touch the motor. Just to be safe, you may want to use this while the showerhead is turned off.
Final Thoughts
On its own, the Dazzlepro Elements is a solid, cost-effective product. However, its UV sanitizer can be too much of an overkill for hygienic purposes. You can still get a better product without the sanitizer, while still staying within the same budget.
But if you are the kind of consumer who is into UV sanitizers, then this product might be a good fit for you. However, for us, we'll pass on it and instead choose one of the more affordable sonic toothbrush options out there.