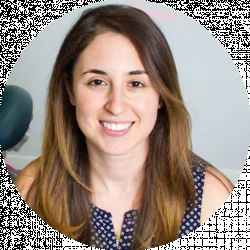 Latest posts by Erica Anand
(see all)
There is so much hype around clear aligners. We see it in magazines, on television, and on social media. Whether it is a celebrity boasting about the benefits of clear aligners or a friend showing their progress on Instagram, it is undeniable that aligners produce amazing cosmetic results.
Two of the best-branded aligners and most popular among dental offices are ClearCorrect and Invisalign.
The Main Differences Between ClearCorrect vs Invisalign
The main differences between ClearCorrect vs Invisalign are:
ClearCorrect material is more opaque, whereas Invisalign uses a matte appearance which blends in with our natural teeth well.

ClearCorrect has a straight cut edge, whereas Invisalign uses a scalloped edge to match our gum lines. A straight cut edge can apply more forces to the teeth to move than a scalloped edge and avoid the need for attachments or engagers as often.

ClearCorrect utilizes tooth-colored engagers, whereas Invisalign uses tooth-colored attachments to help force teeth to shift direction. Both have similar goals to help exert more force on the tooth to rotate or shift.

ClearCorrect aligners are slightly less noticeable than Invisalign, whereas Invisalign aligners are thicker than ClearCorrect.

ClearCorrect is lower in price than Invisalign. Both certainly have more expensive price points than home aligner systems, but ClearCorrect is the more affordable option with Invisalign ranging in price from $3500 to $8500 while ClearCorrect may cost a patient $2000 to $8000 depending on the types of aligners needed.
Similarities
The goals of aligner systems are to correct orthodontic issues like:
Crowded teeth

Overbites

Underbites

Spacing and gaps between teeth

Crossbites

Overjet (teeth protruding out)
Both ClearCorrect and Invisalign are highly respected companies with very similar features in their products, but there are a few notable differences that you may want to consider when choosing an aligner system.
What is ClearCorrect?
ClearCorrect was developed in 2006, a few years after Invisalign was introduced to the dental market. The aligner system was designed with its own specialty aligners, yet very similar to Invisalign.
ClearCorrect developed with the same concept – the use of clear aligners to help straighten and realign teeth but also introduced different options depending on the malocclusion. Patients are supervised by a licensed dentist or orthodontist throughout treatment.
ClearCorrect is fabricated from a company called Zendura that utilizes a BPA-free polyurethane resin. The material is designed to be thinner and more comfortable than Invisalign.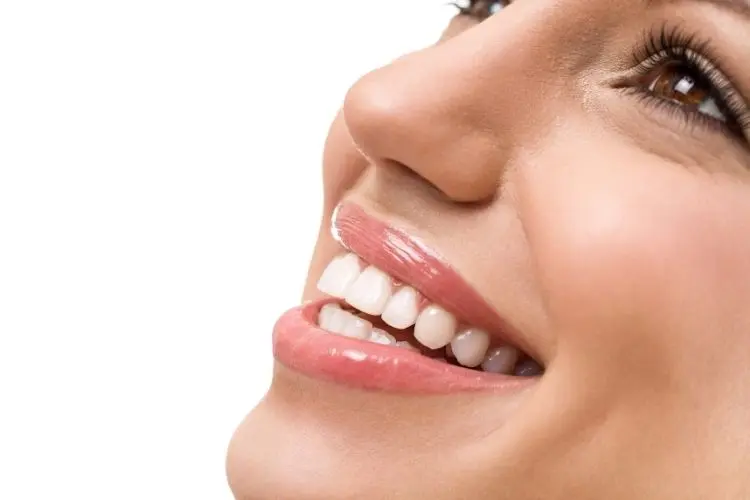 The material is also utilized because it is reported to work quickly to realign teeth by using a straight-line edge to put additional forces on the teeth and roots to shift positions.
The aligner system offers various types of treatment depending on the patient's malocclusion severity.
ClearCorrect Limited 6: This is an "express" version of ClearCorrect for mild cases and includes up to six sets of aligners.
ClearCorrect Limited 12: Patients are given up to 12 aligners depending on their severity.
ClearCorrect Unlimited: This is a common course of treatment for patients and comes with as many aligners as needed to complete the orthodontic treatment.
Pros
ClearCorrect aligners are thin and light making them less visible than other aligner brands.

The aligners go through a polishing process to leave them smooth and comfortable. This also helps make them easy to insert and remove.

ClearCorrect can help correct a variety of cases ranging from mild to serve malocclusions.

Utilizes attachments called "Engagers" to help effectively shift teeth into the proper position.

Aligner edges are straight and designed to help make for a faster treatment period.

Aligners can be fabricated from traditional impressions or an in-office scanner like iTero.

There is a treatment software that helps dentists design and plan their cases.

ClearCorrect offers a Flex plan for mild cases where you can pay per aligner instead of an expensive flat fee.

Invisalign works closely with iTero, the digital scanner system that replaced traditional impressions.
Cons
Clear aligners like ClearCorrect can come with a steep price tag ranging from $2500 to $5000.

Treatment can range 12-18 months which can be lengthy for many people looking to correct their smiles.

ClearCorrect aligners have more of an opaque appearance and their straight edge can make it more visible and uncomfortable than a scalloped edge.

Some critics believe because the aligners are thinner, it could make them more prone to breakage.
What is Invisalign?
Invisalign is the first and leading company of clear aligners. It was developed in 1997 and has been serving the public for over 20 years!
Invisalign clear aligners are manufactured by Align Technology that provides BPA-free plastic. It is also gluten and latex free which is very appealing for many patients. The aligners use SmartTrack technology exclusive to Invisalign which helps make it easier for patients to insert and remove their aligners comfortably.
Like other clear aligners, Invisalign must be worn up to 22 hours a day to effectively shift your teeth into the proper position. Invisalign continues to be a leader of clear aligner brands because of its long-term history and excellent marketing strategies.
Most importantly, many adults lean toward Invisalign because unlike several of its competitors, it can correct more complex cases and be an alternative to traditional metal braces.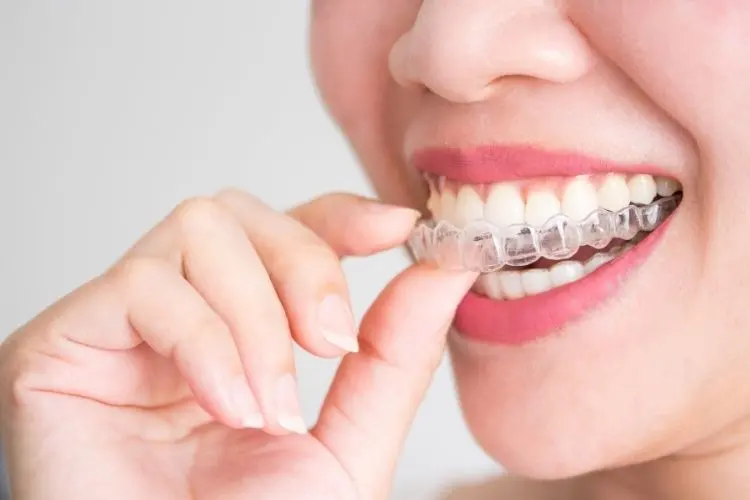 Invisalign offers several options depending on the severity of your malocclusion, your age, and your dentition stage.
Invisalign Complete: This is the most popular option because it can help correct a variety of orthodontic issues and can take 7 months to 28 months to complete.
Invisalign Lite: Lite works similarly to Invisalign Complete but is used for less complex cases and has a shorter treatment time. It is typically used for more mild orthodontic issues and requires usually 6 months or less to complete.
Invisalign Express: Express is designed for patients who need very mild adjustments and typically require 2 months or less of treatment. It is recommended for patients only needing to move 1-2 teeth.
Invisalign Teen: Teen is used for younger patients with mild to moderate orthodontic issues. It works the same way Invisalign Complete does, but can also accommodate baby teeth if a patient has not lost all their primary teeth yet. They have an indicator for parents that can help remind them to wear their aligners too.
Invisalign First: First is one of the only options that offer clear aligners for adolescents in mixed dentition. The trays are designed to allow for baby teeth, missing teeth, and erupting teeth.
Pros
Invisalign offers an express option for patients requiring less complex cases. This option usually takes about 6 months to complete and is lower in price than traditional Invisalign.

Invisalign can treat moderate to severe malocclusions by the use of attachments, rubber bands, and other enhancements to correct bite issues or misalignment.

Invisalign comes with a custom ClinCheck so that you can see how your teeth will progress as you change your trays.

The wait time is short compared to home aligner brands. Once you complete your impressions and your treatment plan is approved, it takes approximately 2-4 weeks to receive your set of aligners.

Invisalign aligners nearly invisible and follow the gemlike with a scalloped edge so they are barely noticeable.

The reputation alone holds Invisalign at such a high level that it is guaranteed to deliver drastic results.
Invisalign offers refinements for patients who are not satisfied with their treatment at the end or need additional "tweaks" to perfect their smile.
Cons
Invisalign is a higher cost option than other aligner brands. It is a significant financial investment with a price tag of $3500 to $8500. Payment plans and special financing are often available depending on your dentist.

Retainers are often not included in the Invisalign treatment. They can range from $100 to $300 and are purchased when you complete your case.

Invisalign is often not a quick solution. The average treatment ranges from 12 to 18 months to complete.
FAQS
Here are some of the most frequently asked questions:
Question: What is the main difference between Invisalign and ClearCorrect?
Answer: Both aligner systems are similar to help straighten teeth and can treat mild to severe cases. Invisalign is slightly more expensive and has a longer reliable reputation, but ClearCorrect is becoming increasingly popular due to its lower cost.
Question: How long are Invisalign and ClearCorrect treatment?
Answer: Treatment time always depends on the severity of your case and can typically range from 12-18 months. If you have mild crowding, you will likely require less treatment time than a moderate to severe malocclusion or jaw discrepancy.
Question: Is an in-office aligner system better than an at-home aligner company?
Answer: In-office aligner systems like Invisalign and ClearCorrect require a licensed dentist or orthodontist o monitor the case. An at-home aligner system does not require any office visits, which is convenient but can also present a downside if there is a dental issue. An in-office aligner system is pricier, but comes with professional guidance and can treat more complex cases than at-home aligner companies.
Question: Which aligner company produces the fastest results?
Answer: Byte is an at-home aligner system that produces the quickest results using their patented technology, Hyperbyte, along with their aligner system. Byte claims to correct cases in as early as 4-6 months.
Question: Does insurance cover Invisalign or ClearCorrect?
Answer: Some dental insurances will have orthodontic coverage in the same way they would cover traditional braces. Some dental plans won't cover aligner treatment because they consider it "cosmetic." The best thing to do is consult your dentist to find out about your insurance dental benefits.
Question: Are aligners safe?
Answer: Yes! Invisalign and ClearCorrect utilize FDA approved, BPA-free materials. Your dentist will ensure you are a good candidate for aligner treatment based on your medical and dental histories, your oral health, and your dental malocclusion.
Question: What are the treatment qualifications for Invisalign and ClearCorrect?
Answer: Many people are eligible for aligner treatment but in order to qualify you should have healthy gums and teeth and no complex jaw issues or bite problems. Invisalign and ClearCorrect may not be an option if you have impacted teeth, very large gaps over 3 mm, or poor compliance to be wearing your aligners 22 hours a day.
Question: What dental conditions can Invisalign and ClearCorrect treat?
Answer: Both brands can treat just about any malocclusion. For moderate to severe malocclusion, you may need additional attachments like tooth-colored buttons or elastics to help correct jaw or bite issues. These attachments put more forces on the teeth and jaw to shift into the proper position.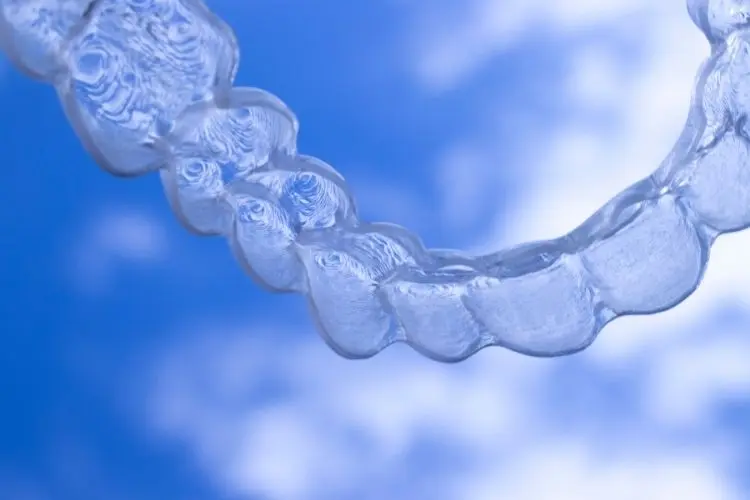 Final Verdict
Both ClearCorrect and Invisalign offer similar products and services that can make dramatic changes to your smile. They are so similar that you may not even realize the aligner brand you are using unless your dentist dives into the benefits of the particular brand he/she offers.
Most likely if you read a review or speak to a professional that favors one brand over the other, it is because they have an affiliation or work specifically with that aligner.
If you are actually seeking out an aligner brand, I am inclined to go with ClearCorrect because their price point is slightly lower while still receiving the same high-quality product.
ClearCorrect has an excellent reputation and has been around long enough to know that it produces great results. I can't justify spending more on a clear aligner whose progress is monitored by a professional licensed dentist and is virtually invisible.