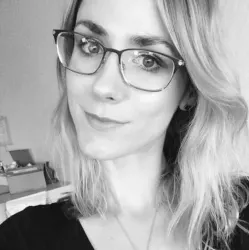 Latest posts by Karyl Trejo
(see all)
Clear teeth aligners are a brilliant invention that allows you to straighten your teeth easily, comfortably, and without very visible hardware. Once your straightening program has started, you will be given a series of clear "trays" that have been fitted to your teeth sizes and shapes.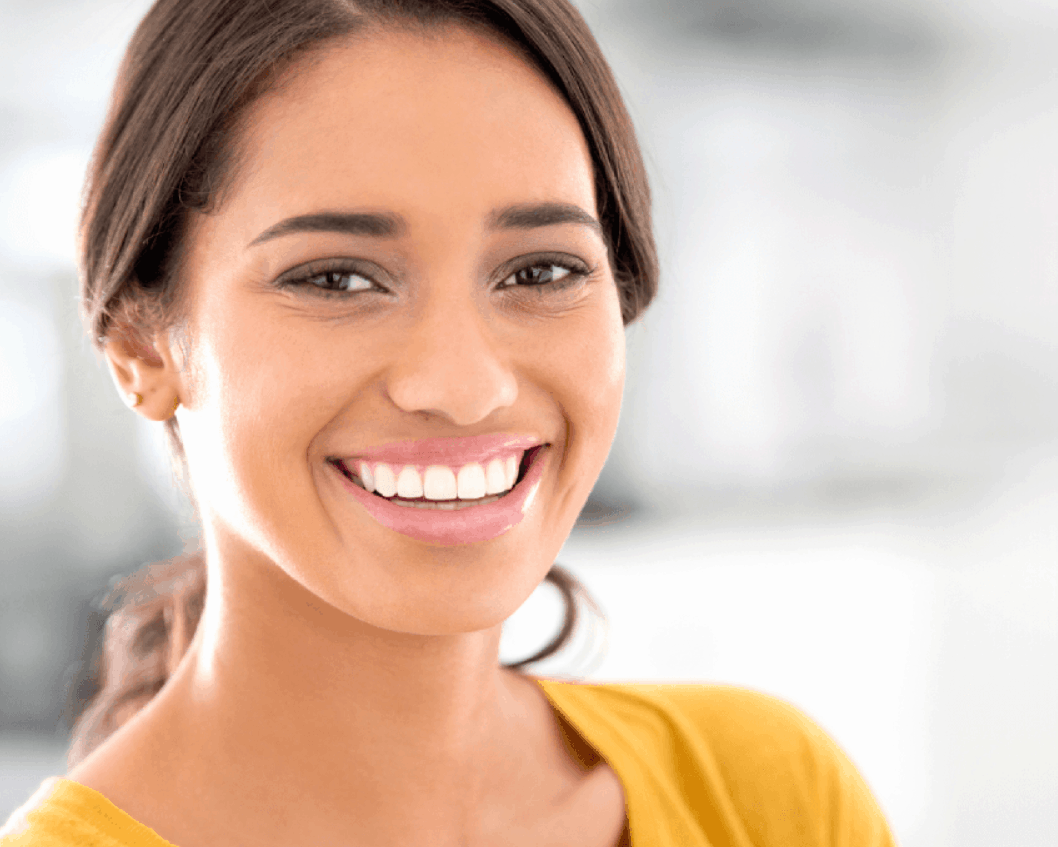 The aligner trays are each worn for a period of time determined by a doctor while they slowly straighten and align your teeth, then you switch out to the next set of trays that provide even further adjustments.
This allows your teeth to be gradually and easily straightened over time. In this article we'll be looking at two different brands of clear teeth aligners, Candid and Invisalign, to help you decide which may be best for you.
The Main Differences Between Candid vs Invisalign:
The Main Differences Between Candid vs Invisalign are:
Candid program can be completed in 6 months, whereas Invisalign takes between 12 and 18 months.
Candid is a 100% home program, whereas Invisalign requires in-person check-ups.
Candid programs include a whitening kit, whereas Invisalign does not.
Now let's take a quick glance at some of the bigger differences between Candid and Invisalign:
A Quick Glance: The Main Differences Between Candid and Invisalign
There are some major main differences between Candid and Invisalign that may make one or the other an easy choice for you. Here's the breakdown:
Cost. The biggest thing to look at between these two is the cost. It's no secret that everyone is trying to save money and spend more efficiently these days. With that in mind, the first thing to look at with Candid vs Invisalign teeth aligners is the cost. Candid aligners have the potential to be thousands of dollars cheaper than an Invisalign program. Candid aligners can cost up to $2,400 total, whereas Invisalign can run as much as $7,000 (depending on the program your orthodontist deems necessary). Both programs now offer a monthly payment plan, and insurance may cover some of it, though it may not.
Length of treatment program. Candid's treatment program takes an average of six months, with the outside time being 11 months. Invisalign's treatment program can take up to 18 months, but the average time is over a year.
Your time at the doctor's office. Candid is touted as a "100% at-home program." This means that it is possible to complete your teeth alignment program without having any doctor's visits in person. Your entire program can be completed with the use of your smartphone in the convenience of your home. Invisalign, however, requires that you have regular in-person checkups to monitor your treatment, take scans of your teeth, and fit you for your next set of aligners. This can be a make or break for some people. Are you comfortable with handling the program on your own, or would you rather have an in-person orthodontist be involved with personally handling your teeth?
A Quick Glance: The Writer's Choice
With initial assessment of these two brands of aligners and their pros and cons, this writer would recommend going with Invisalign clear teeth aligners.
While the cost may be a bit daunting, the added security of having doctor's visits and an in-person orthodontist working to help straighten your teeth can guarantee less room for mistakes or the possibility of having to go through a second alignment program.
Convenience and the comfort of your own home may be best (and most wanted!) in many situations, but when it comes to your teeth and having a healthy mouth, in my opinion having a professional involved in-person is best.
What exactly is teeth alignment?
Teeth alignment is when a process is applied to the teeth that gradually shifts the teeth into their proper place. This can be done with either braces, which apply a pulling force to teeth, or clear aligners which use a pushing force to shift the teeth back to where they should be.
For many years, braces were the only technology available for straightening and aligning teeth. They can be unsightly and unwieldy, cause pain and bleeding, and make it difficult to eat certain foods.
The solution to all of these problems? Clear teeth aligners. Below we will examine the product and program from both Candid and Invisalign further in depth.
Candid Teeth Straightening: The Details
Candid was founded in 2017 by five entrepreneurs who wanted a more affordable way to straighten their teeth. They partnered with a well known orthodontist and have grown since then to serve tens of thousands of patients.
Candid has very positive reviews on consumer reporting sites as well as dental information sites. Their main selling point aside from the cheaper cost is that the program can be done 100% through the mail.
No office visits are required; in fact, you can even do your initial orthodontist's assessment by getting a starter kit and completing it at home.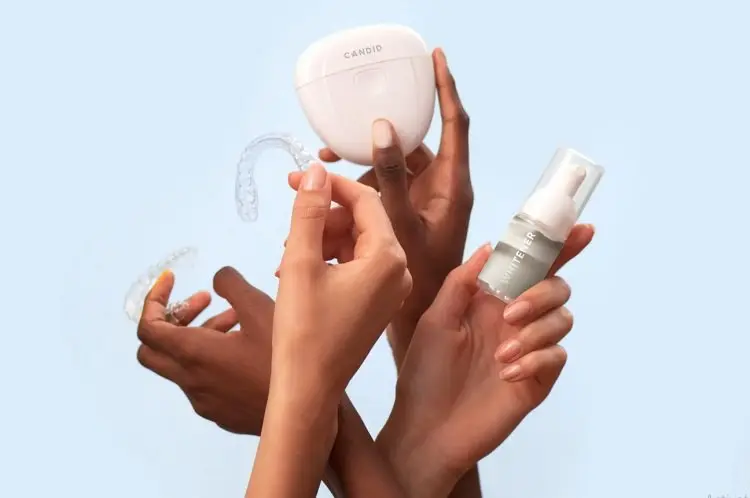 Candid's process works like this:
For initial assessment, you have the choice of visiting one of Candid's "Studios" or ordering an at-home starter kit. The starter kit includes everything you need to take pictures and impressions of your teeth for an orthodontist to review.
Shipping for the starter kit is free, and if you do not qualify to use Candid's teeth alignment system, you are refunded the price of the starter kit.
After you have completed your visit or gone through the steps and returned your starter kit, one of Candid's associated orthodontists will review your results.
They will send you a 3D review of your teeth and inform you if you are able to participate in the program. If so, the next step is receiving your box of aligners.
This includes a box with aligners separated into "steps" (the number depends on each person's personalized plan), a whitening system, and a device that will allow you to take pictures of your teeth with your phone.
You will work with the same orthodontist throughout your program. Virtual check-ins are completed with the photo device that attaches to your phone and your orthodontist will give you feedback as to whether you should stay with this set of aligners longer or move to the next set (step) in the process.
Once you have completed all the steps in your program, Candid sends you a retainer with a case that you wear at least overnight for an unspecified amount of time.
Customer reviews of Candid talk about the ease of the program and convenience of remote check-ins and virtual visits. Candid has been accredited by the BBB since 2019 and has an A+ review.
Some customers complain that their teeth are not completely straightened by Candid, but it appears that Candid is very thorough with responses and trying to supply these unsatisfied customers with various solutions, including a renewed treatment program.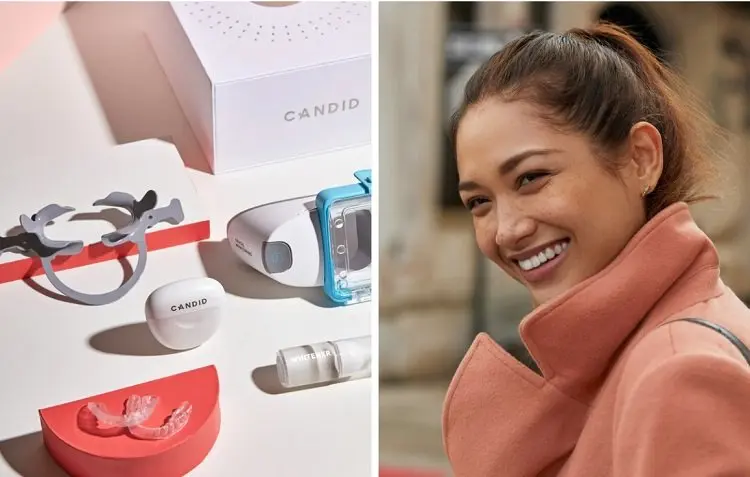 Pros and Cons of Candid
Pros
Cost is affordable and a payment plan is available
No office visits are required throughout the program, although it is possible you will be asked to visit a studio if the starter kit examination is not thorough enough in the opinions of the orthodontists
You work the whole program with an actual orthodontist who has been trained in teeth straightening, not just a dentist
A whitening kit is included with the program
Aligners are nearly invisible
The program is quicker than other teeth alignment programs
You get the whole program's worth of aligners all at once, instead of having to wait for a new set
Full refund of starter kit if you are not a candidate for the program
Uses BPA free plastic
Free retainer at the completion of your program
Good customer service
Cons
The process can involve some pain
Applying and removing the aligners can cause excess saliva
The aligner may cause a lisp when you are talking while wearing it
Results can be slow and difficult to notice
You will need to brush your teeth before each time you put the aligners in
You may not be eligible based on the severity of your misalignment
The program aligners may take a while
to get to you after you are accepted into the program
Candid FAQs:
Can I eat and drink while wearing Candid aligners:
Yes. Candid aligners can be worn while eating and drinking. However, they should be cleaned afterwards, and you should clean your teeth thoroughly before reinserting your aligner each time.
Can I talk to my orthodontist directly?
Normally, you will not speak directly to the orthodontist you are working with through Candid. Candid has what they call a "care team" that acts as a liaison between the customer and the customer's orthodontist.
When will I start seeing results?
This depends fully on the treatment plan. While some may notice results very quickly, others who need less severe straightening may not notice results for a few weeks.
Why aren't I a candidate for Candid?
According to an orthodontist's blog on the Candid website, some people are not qualified for the Candid program simply because of the number of aligners it would take to straighten their teeth. This doesn't mean that their teeth can't be straightened – rather, Candid feels it would be more beneficial for that person to go directly to an orthodontist.
Invisalign Teeth Straightening: The Details
Invisalign was approved by the FDA in 1998 and since then can claim to help over eight million people with their teeth straightening program. Invisalign has the leg up of being the most well known teeth alignment program on the market.
They use a patented product called SmartTrack to create their aligners, which is said to be more comfortable and easier to place and remove than other teeth aligners.
A big selling point for Invisalign is their years of experience – despite the necessity of visiting a doctor's office, you may be more comfortable knowing that their company has been improving the product and experience for over 20 years.

Invisalign's process works like this:
Your doctor will use an Invisalign specific scanner to take scans of your teeth, which is then reviewed and used to create a custom program. Your aligners are created and trimmed specifically to your scans and to fit your gum line to provide maximum comfort.
From there, you will schedule another appointment with your doctor to get your first set of aligners. At this appointment your doctor will ensure fit, explain the program, and answer any questions you have.
From there, you will have regular check-ups to ensure that your program is working and pick up new sets of aligners. While you won't necessarily need to go in for every new set of aligners, you can expect doctor appointments to happen every four to six weeks.
At the end of the Invisalign program, you will get a retainer to wear at least overnight for an unspecified amount of time to keep your teeth from reverting back to their original positions.
While Invisalign is not a BBB accredited company, reviews on consumer reporting and dental information sites are generally good. The negative comments regarding Invisalign include the length of treatment time being extended, and the cost of the program.
Pros and Cons of Invisalign
Pros
The treatment program is very thorough
In-office visits allow the opportunity for issues to be caught as they arise and fixed immediately
Invisalign's proprietary technology and material for creating aligners is more comfortable than most clear teeth aligners
Aligners are nearly invisible
Aligners are easy to clean and maintain
Some insurance will help cover the cost of the Invisalign program
The program works – millions of satisfied customers and customer reviews will testify to this
Some people may consider in-office visits with doctors as better and more secure than remote visits
You can talk to a real doctor any time you visit, instead of talking through a liaison
Payment plans are available
Cons
The program is expensive
The program may last for a long time
To get the better and more specific alignment that comes with Invisalign, more attachments may be necessary on top of just the aligners
You have to remove them for eating
According to customer reviews, things like lipstick, coffee, and tea may stain the attachments and be noticeable
The aligner may cause a lisp when you are talking while wearing it
Results can be slow and difficult to notice
You will need to brush your teeth before each time you put the aligners in
The process can involve some pain
Invisalign FAQs:
How do I get started with Invisalign treatment?
If your current dentist or orthodontist doesn't work with Invisalign, you can find the number for their "Smile Concierge Team" on their website. This team will tell you where a doctor is in your area who can scan your teeth and begin the Invisalign process for you.
Can I take my aligners off whenever I need to?
Yes. As long as you are wearing your aligners the recommended 20-22 hours a day you can remove your aligners whenever necessary.
Is Invisalign treatment painful?
Some users of Invisalign aligners have reported mild discomfort in the first few days of using a new aligner, however they describe it as more of a pressure than as being painful. This is temporary.
Can the aligner slip off while I am asleep?
Yes, but this is highly unlikely. The aligners are designed to snugly fit your specific set of teeth.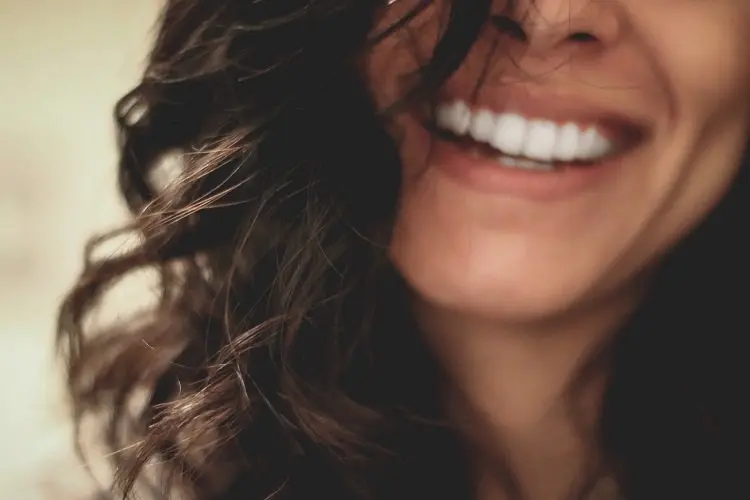 Conclusion: Candid vs Invisalign Compared
Hopefully, this article will give you the tools and information to determine which of these two teeth alignment programs may be best for you.
If you are looking for a more affordable program and are comfortable with completing all of the steps of the program on your own in the comfort of your home, then Candid is certainly a great choice with a strong program.
However, if you are more comfortable working directly with a doctor and can afford the price of Invisalign, it may be a better choice. Personally, I would go with Invisalign for that reason. Best wishes on your straight smile journey!