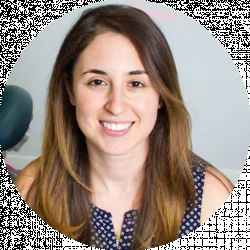 Latest posts by Erica Anand
(see all)
Getting braces is a monumental moment in your dental health. However, it can also create a bit of a challenge to maintain good oral hygiene. In order to properly straighten your teeth but also keep your oral cavity healthy, it is best to have a plan with brushing and flossing to avoid higher risks of tooth decay and gum disease.
There are so many amazing oral care products that offer protection, but some are better than others. You need to find the best toothpaste for your braces depending on your habits, taste preferences, budget, and needs.
Why do I need an amazing toothpaste for braces?
Traditional braces (metal or ceramic) or lingual braces make it difficult to keep your teeth clean and plaque-free. This is why investing in a toothpaste that can help avoid future dental problems that can be costly and uncomfortable. The goal when your braces come off is to have a perfectly straight smile. But, you also don't want a mouthful of cavities and discoloration.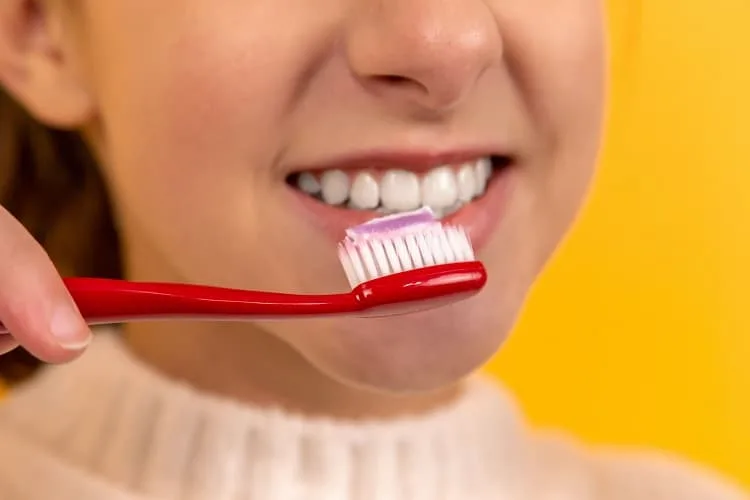 What factors should I consider when choosing a toothpaste for braces?
There are advantages and disadvantages to some types of toothpaste, which is why you need one that fits your needs. Some of the more important reasons why you need really good toothpaste include:
Cavity proof: you need to understand that many of us are prone to tooth decay with poor brushing habits and the frequent consumption of sugars. With braces, you are even more likely to develop tooth decay because food and plaque can get trapped around brackets. Choose a toothpaste that boosts their anti-cavity ingredients to help you stay ahead of decay.
Teeth whitening: even with braces, you want to keep your teeth in top shape so when they come off, you're happy with your appearance. There are whitening toothpastes that help maintain your pearly whites until you can bleach or use traditional whitening trays. Read our full teeth whitening guide.
Sensitivity: many patients experience tooth sensitivity with braces since they are technically a foreign object in your mouth. Special toothpastes can help dull sensitivity and create a more comfortable orthodontic experience.
Gum care: there is no doubt braces can cause your gums to become irritated. Besides avoiding tooth decay, we need to address gum care during braces treatment to avoid long-term problems and to avoid swelling, bleeding, and redness that can occur if we neglect our gums.
Halitosis: Bad breath is unfavorable with or without braces. With orthodontic appliances, it can be harder to keep your teeth and gums clean and this can lead to bad breath if food or plaque debris remains. Toothpastes that contain a minty flavor and neutralizes bacteria that cause bad breath should be recommended. Read our full guide on finding the best toothpaste for bad breath.
Toothpaste recommendations
Colgate is one of the leading makers of toothpastes and oral healthcare products. There is no doubt Colgate creates products to help improve people's oral hygiene and with braces, you want to take no risk in damaging your pearly whites.
Colgate Cavity Protection offers the highest level of protection against cavities and plaque removal. Colgate declares the toothpaste helps strengthen teeth against acid attacks and helps repair weaker spots before cavities even start.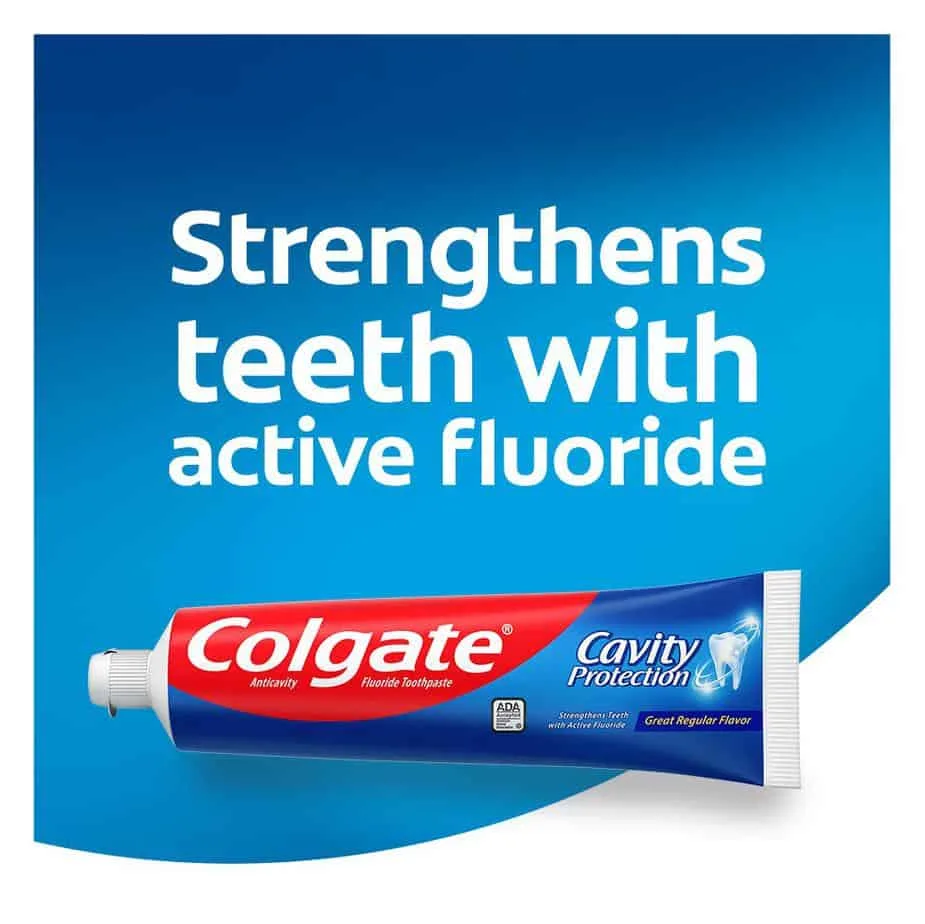 This toothpaste is recommended for patients in orthodontic care because it helps effectively remove all types of plaque around brackets and wires that can be problematic areas. If you are one to frequently consume sweets, this is the toothpaste you want to be used to keep your mouth fresh and safe.
Pros
Colgate has a long history as a trusted brand in oral health care by dental professionals.

Contains Sodium Monofluorophosphate to help prevent plaque and tartar build up.

Has a high level of Sodium Fluoride to fight tooth decay.

Leaves your mouth feeling fresh to help with any signs of halitosis
Cons
Contains Sodium lauryl sulfate which is a foaming agent that some people try to avoid for health reasons.
Sensodyne Pronamel is a highly favored toothpaste for people looking to reduce sensitivity. It is packed with Sodium Fluoride and Potassium Nitrate, to help fight cavities and decrease sensitivity to extreme temperature changes.
One of the greatest reasons people choose to use Sensodyne Pronamel with braces is that it contains a high level of fluoride to help strengthen enamel and reduce the risk of tooth decay. It is a bit less harsh than competitor toothpastes on your gums making it a top choice for people in braces.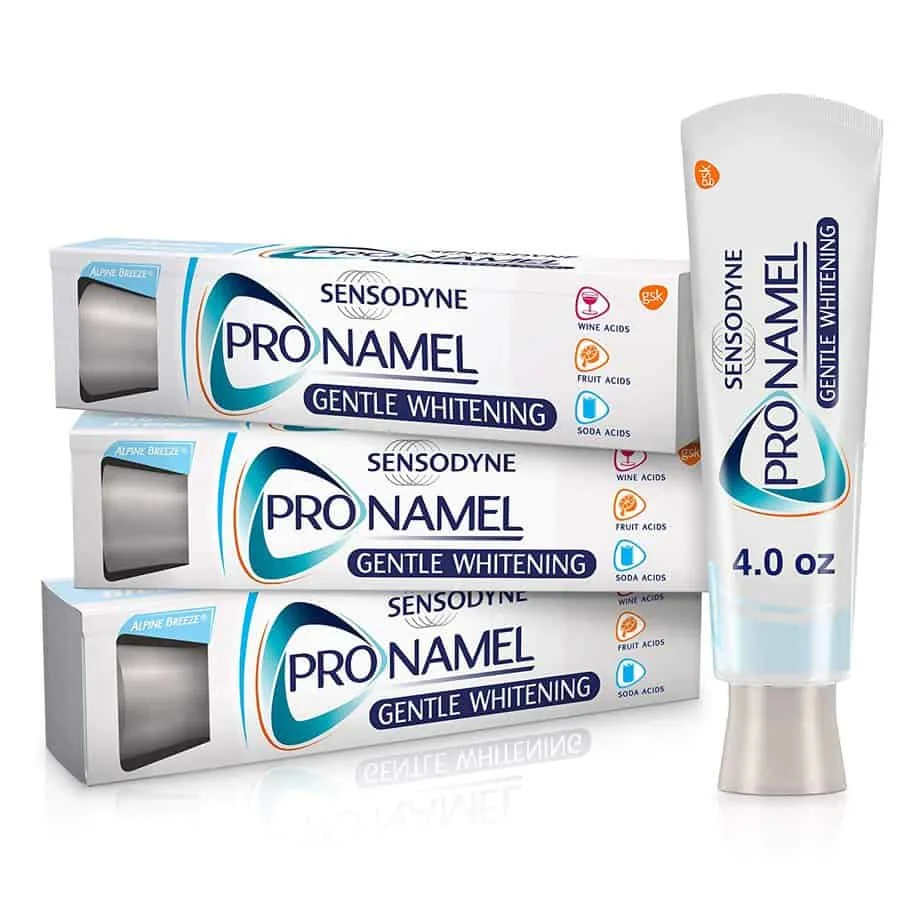 This toothpaste is beneficial for patients in orthodontics because one of its key features is that it helps fight acid erosion. Many of us have a sweet tooth, but when you have braces, this can cause our enamel to be worn away. Sensodyne Pronamel helps fight acid erosion by avoiding the thinning, dullness, or yellowing that you definitely don't want in braces.
Pros
Sensodyne Pronamel contains more than two times as much Sodium Fluoride as other toothpastes helping protect your teeth from cavities.

This toothpaste helps fight acid erosion from acidic foods and beverages.

Calming toothpaste on your gums to avoid discomfort and irritation near your brackets and molar bands.
Cons
Sensodyne Pronamel is slightly more expensive than generic toothpastes.

This toothpaste has weaker whitening properties than some of its competitors.
Arm & Hammer is known to create oral health products using baking soda to gently clean and strengthen tooth enamel against cavities. One of its main advantages is that by using baking soda it helps gently remove external stains more effectively than its competitors.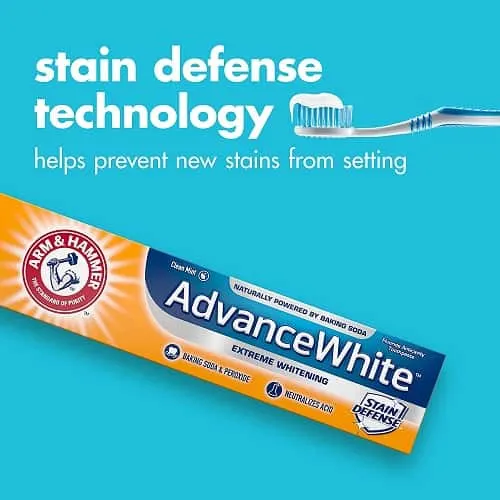 It also contains a safe over-the-counter level of peroxide to target difficult stains to boost its whitening properties. This toothpaste is beneficial for patients looking to improve the appearance of their smiles while in orthodontic care.
Pros
Contains baking soda and peroxide to give a whitening effect.

Contains fluoride to help fight cavities along the gum line and keep your gums in top shape.

Removes up to 5x more plaque than non-baking soda toothpastes.
Cons
Does not have a strong minty aftertaste that some other toothpastes have.

Slightly more expensive than some competitor toothpastes.
This toothpaste is designed for orthodontic patients, therefore it is a top contender for one of the best toothpastes for braces. For people with braces, there is always a greater chance to develop white spots and discolorations around the brackets because of poor brushing habits and the extended period of time (up to 24 months) in braces.
Butler GUM helps remineralize enamel to avoid tooth breakdown and the cause of demineralization. Many people enjoy this toothpaste because its minty flavor leaves your breath fresh and healthy.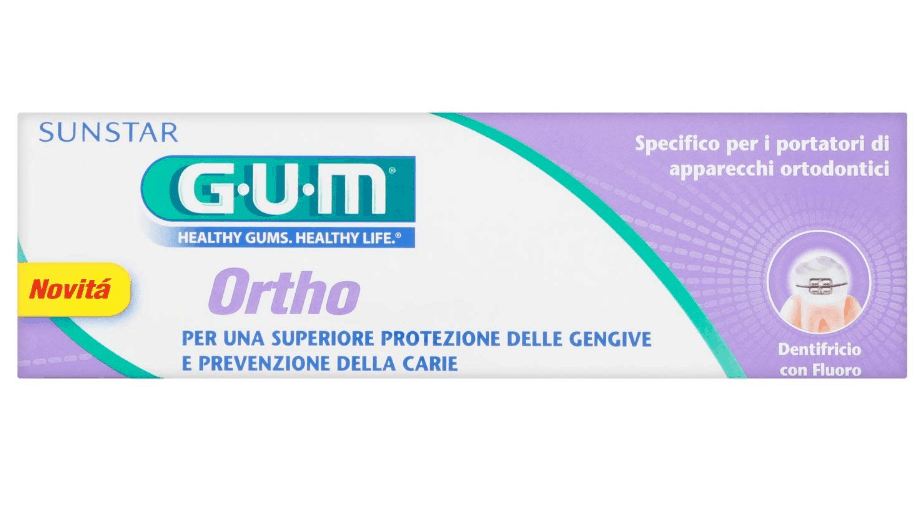 Butler GUM is packed with active fluoride ingredients to help fight tooth decay and reduce your build-up of plaque and acids. It also contains other ingredients like Aloe Vera and Vitamin E to help soothe gums, which is important when there are appliances that can irritate your gums and surrounding tissue.
Pros
Specifically designed for people in braces and orthodontic appliances.

Contains fluoride to help protect tooth enamel and fight decay.

SLS free that benefits patients prone to oral mouth sores.

Helps destroy harmful oral bacteria with its antibacterial properties.
Cons
The toothpaste instructions and ingredients are in a different language and may be difficult for some patients to use.

Needs to be purchased online.
If you are looking for a toothpaste to effectively protect your teeth with braces, Prevident 5000 is likely the option for you. Prevident 5000 offers the FluoriGard Technology, which is recommended for preventing demineralization of enamel and promoting remineralization.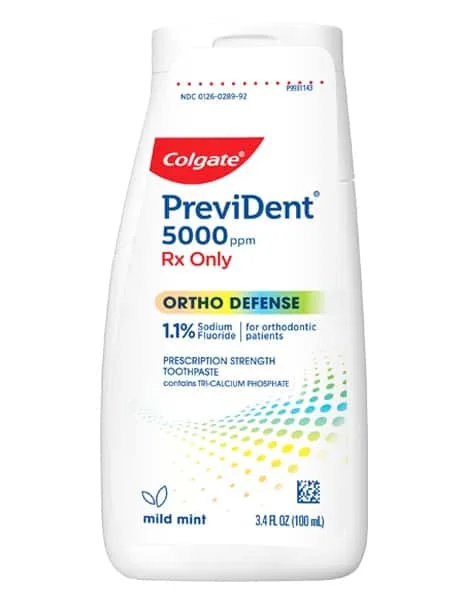 FluoriGard is present in products that help strengthen tooth enamel, effectively remove bacterial plaque, and decrease uncomfortable tooth sensitivity.
Pros
Helps remineralize weak spots of teeth more than any other type of toothpaste.

Mild mint flavor to give you a fresh aftertaste.

Ideal for patients with orthodontic decalcification around brackets.

Contains more fluoride than other products to allow for enamel uptake and more resistance of tooth breakdown.
Cons
You need a prescription from your dentist – this toothpaste is not sold in stores.
FAQs
Question: Can I use whitening toothpaste while in braces?
Answer: You can use whitening toothpaste during braces to keep your teeth fresh and clean. Remember that when your braces are removed you may need a touch up to have them all match naturally.
Question: What is the most important ingredient I need in toothpaste with braces?
Answer: Regardless of what type of toothpaste you choose, you should pick one that contains fluoride. Fluoride toothpastes are the best type to help prevent tooth decay and reduce your chances of developing white spots around your brackets.
Question: Are all toothpastes designed the same?
Answer: No. Some toothpaste may have special active ingredients depending on the target audience they are reaching. Toothpaste is not designed for every person and some are focused on areas people are looking for help with – whitening, sensitivity, gum disease, plaque control, halitosis.
Question: Can a child with braces use adult toothpaste?
Answer: Yes, as long as a child can spit, they can use any type of adult toothpaste. Some children prefer toothpaste designed for younger patients simply because of the taste.
Question: Why is fluoride necessary for braces patients?
Answer: Fluoride is necessary to help reduce your chances of developing tooth decay. It also helps remineralize teeth to avoid acid erosion and white spots, which harm teeth during and after braces. Without fluoride, your teeth are not able to fight acid attacks as easily, which can lead to the breakdown of enamel.
Question: How often should you brush your teeth with braces?
Answer: Brushing and flossing your teeth is important to help keep them clean, avoid cavities, and give your mouth a fresh feeling. Brushing should be at a minimum of twice a day – after breakfast and before bed. With braces, brushing may be needed even more frequently if food gets caught between your brackets.
Question: Why is oral care so important with braces?
Answer: Braces make it slightly more difficult to keep your teeth and gums healthy than removable aligners. With braces, there is a greater opportunity for food and plaque debris to get trapped. This means you have a higher risk for tooth decay. Your gums are also affected because when you have poor brushing habits, this leads to gum inflammation and irritation.
Question: What is the best way to brush your teeth with braces?
Answer: Brushing your teeth is important, but you want to brush correctly. Angle your toothbrush at a 45 degree angle and brush in tiny circles around your brackets. You want to make sure you brush around your gums so food and plaque does not remain. Use a mirror to ensure you are brushing the entire area of your tooth and make sure you go around and under your wires so you are effectively cleaning your entire mouth.
Question: What happens if I get cavities with braces?
Answer: In the case of tooth decay during braces, your dentist can do a filling to avoid any further problems. Sometimes your orthodontist will need to temporarily remove your bracket and/or wire to do a dental filling.
Our Verdict
As a dental professional, I am always looking for ways to help my patients improve their oral health. Patients in braces are always at a greater risk for tooth decay and gum disease.
When patients get their braces off, the last thing they want to hear is that they have a cavity or see white spots on the fronts of their teeth when they smile. To prevent this, it is recommended to use a highly effective toothpaste to prevent these problems.
Colgate Cavity Protection is always a go-to toothpaste for patients who need protection from tooth decay. It is reliable and gives patients a fresh feeling in their mouths. There is no doubt that Colgate can help keep your gums healthy too to prevent gingivitis and periodontal disease.
For patients that have a very high risk of tooth decay and cannot seem to develop proper oral hygiene, I always recommended Prevident 5000 Ortho Defense.
This prescription based toothpaste will help combat those stubborn white spots that can develop around brackets and fight demineralization along the gum line. It is important to be on the same page as the patient and parents so that when braces come off, everyone is smiling.
Keep reading and learn more about how to find the best electric toothbrush for braces.