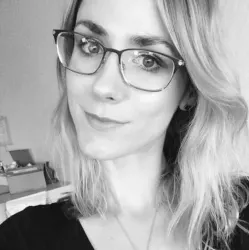 Latest posts by Karyl Trejo
(see all)
Few features of our appearances are as daunting and sensitive a subject as our smiles. It's one of the first features recognizable when we meet someone new, and it is often a key defining trait of how we are perceived and remembered.
Every time we speak, it is impossible not to notice the mouth, and anything from our breath to the alignment of teeth can be a point of insecurity for many.
Generally, avoiding certain foods, proper oral hygiene, or even a breath mint can remedy some stinky breath here or there, but to remedy the alignment of teeth is a little bit trickier. Fortunately, innovations in orthodontics have made braces and the understanding of teeth has made wearing braces easier and quicker.
While helpful, braces are still an expensive investment, and generally are annoying, rather invasive, and can often feel embarrassing, especially to more adult patients.
Fortunately, innovation has also allowed for clear dental-alignment devices that work as substitutes for the cumbersome and flashy braces. The two company comparisons, Candid and Smile Direct Club are designed and written with the purpose of helping you choose the option best suited for your needs, budget, and time.
Choosing a remote orthodontist can be stressful, but it does not have to be blind or without confidence. With comprehensive pros, cons, and features, you will be ready to decide how to obtain that perfect smile from home.
Main Differences between Candid vs Smile Direct Club
The main differences between Candid vs Smile Direct Club are:
Candid costs $2400, whereas Smile Direct Club costs $1,895.
Candid is completely remote and can be started and completed anywhere in the US, whereas Smile Direct Club requires a one-time first visit and operates in 28 states.
Candid only accepts 4 insurances(Anthem Blue Cross, Anthem Blue Cross Blue Shield, Empire Blue Cross, Empire Blue Cross Blue Shield), whereas Smile Direct Club accepts the same insurances and over 6 more others.
Which Remote Orthodontics is Right for You?
Having gotten the main differences out of the way, you can finally get a general idea of where you're leaning. To aid with the arduous process of decision making here is a more nitty-gritty rundown on both companies.
Given the more detailed and unbiased rundown of differences between time, care, and reviews, you will confidently be able to make a decision on which company is the right one to consult for your dental needs.
Candid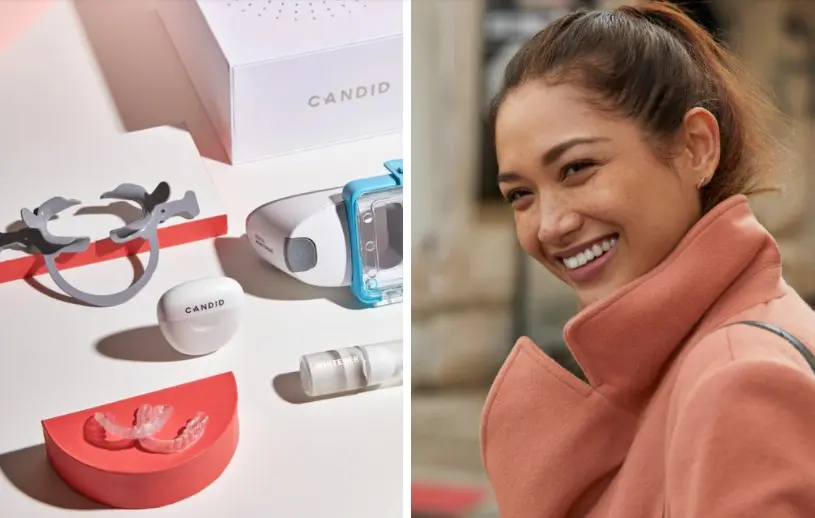 Candid was founded by Nick Greenfield in 2017, after having had some experience with necessary dental work himself. This general insight is helpful to understand the care-based roots that a care-centered service revolves around.
Nick Greenfield had already had experience working with up-and-coming technologies like Lyft, Washio, and Paribus. All three revolved around making a daily or situational task easier for someone by making the customer do less work in some way.
After realizing the dental realignment that he needed was in the thousands of dollars, he determined that life could be easier and done with less work on behalf of the customer.
The very basis of Candid is that it is supposed to be cheaper and more accessible than traditional braces. The idea is that you can be anywhere, and receive the tools you need and the help you require remotely, affordably, and with virtually no one having to invade your space.
Features:
Payments can be made in a one-time purchase of $2400 or can be broken down into a down payment of $399 down, and $99 per month afterward.
Virtual appointments are available seven days a week, from 9 am to 7 pm (Eastern time)
Includes a complimentary teeth whitening kit
Pros:
Candid strictly hires orthodontists only. Their entire team is composed of specialists in teeth alignment, and as such, also require eight in depth photographs, as well as a 3D scan of the client's mouth
It's completely remote. Candid can be done without ever needing to visit an office, or even leave the house. Their kit and scanner are mailed to the client, with some few cities offering a physical location should it be preferred
Your orthodontist stays with you. The orthodontist that reviews your case is also the orthodontist that will carry out your treatment first-hand for the duration of your treatment for consistency and proper attention.
Cons:
It can be expensive. While still cheaper than traditional braces and other competitors, it is on the more expensive end.
There's the possibility of treatment denial. Because Candid wants to ensure process satisfaction, they review your case to determine if they can appropriately treat your case.
It may require more patience. Because Candid centers itself on care and attention to detail, the process may be slower so as to not rush the process.
Customers' Opinions of Candid:
Candid's reviews are generally positive, with some rare examples of negative experiences. Here is our overview of experiences with Candid.
One customer expressed thorough satisfaction and a resolved issue with an underbite that had caused problems and pain but had been remedied.
Another customer enjoyed their experience due to being treated when leaving their house was not an option.
One customer expressed great satisfaction with the service, attention, and time the process took but had minor discomfort with one of the aligners.
Unfortunately, one customer had a negative experience with the shipping time for their equipment.
Smile Direct Club
Smile direct club was founded in 2014 in a joint venture on behalf of friends Alex Fenkel and Jordan Katzman. The two met in summer camp when they were both thirteen when Alex had braces at the time.
When much older, the two decided that the industry could use optimization, and most importantly, affordability. After teaming up with Camelot Venture Group, a private investment company, the two formed Smile Direct Club.
Smile Direct Club prides itself on its affordability and its experience in the remote-care dental industry. Seeing a need for orthodontic care in the United States, and a generally high threshold price, the company aims to bridge the gap on dental work and affordable access for many.
Features:
Payments can be made in a one-time purchase of $1,895 or can be broken down into a $250 deposit, and $85 per month for 24 months.
24/7 access to their dental care team
28-state physical locations
Many insurances accepted
Complimentary Whitening Kit
Wide variety of dental care products sold through their website
Pros:
It offers affordable dental care. Smile Direct Club is amongst the most affordable options for remote dental care available today.
It's remote, but with physical locations. While Smile Direct Club is remote and can be done virtually from home, they also offer physical locations in 28 states.
Smile Direct Club is typically quick. The average treatment timeline is estimated at around four to six months.
Cons:
It's a mix of dentists/orthodontists. While Dentists are trained dental professionals, Orthodontists are specialized in bone movement and alignment. This detail could make a difference for some in the treatment they would like to receive.
There's a potential for treatment denial. While many cases are taken, Smile Direct Club may also potentially not accept some cases, if they determine they can not appropriately treat it.
Customers' Opinions of Smile Direct Club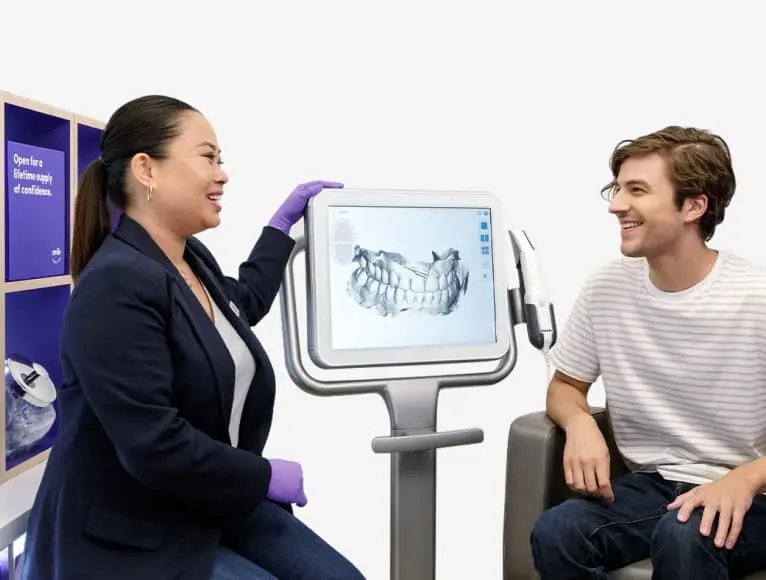 Reviews for Smile Direct Club are generally positive with, of course, some deviations with negative experiences. Here is our brief overview of customers' experiences with Smile Direct Club.
One customer expressed a lot of happiness and satisfaction with her results, claiming to have felt great with the transformation, and to have had teeth straightened so quickly.
One other customer is still in the process of treatment, but claims to have had quick progress, and looks forward to the final results.
One customer is satisfied with the improvements but found that after treatment, there were gaps formed further back in their teeth as a result of the movement.
Unfortunately, one other customer was disappointed after treatment left a gap in his teeth, requiring another potential treatment plan.
Final Thoughts and Conclusions
It is clear and readily evident that both companies, while having different amounts of time in the industry, generally share positive experiences that satisfy their customers. Both Candid and Smile Direct Club have major similarities, and some major differences between them, which can make deciding difficult. Here are our final thoughts.
In terms of pricing, Smile Direct Club leads over Candid by just over half a thousand dollars, regardless of one-time or payment plan options. Overall, when it comes to affordability, those $500 can be a massive difference and incentive to obtaining your affordable and remote care. Not only that, but Smile Direct Club's widely accepted insurance policies drastically can lower your overall pricing and out-of-pocket costs.
In terms of options for service, Smile Direct Club takes the lead once again. While Candid does offer any-day assistance, it only does so within a specific time frame that is eastern-time based.
This simple fact may not be convenient for busy schedules on the west coast or off-continent customers. Meanwhile, Smile Direct Club does offer 24/7 service for its customers. Smile Direct Club also features physical locations in 28 states, while Candid only offers 7 locations distributed across 6 states.
In terms of quality care, while both offer quality dental care, Candid takes the lead in this department. Candid's strict employment of an orthodontist-only team benefits their goal for affordable quality care with little settlement for less.
Their in-depth approaches and consistency with care of patients is not quite as aptly rivaled by Smile Direct Club. Dentists are not specialized in bone movement like orthodontists are, and that simple notion paired with Candid's permanently assigned specialists puts absolute confidence in their clients.
The absolute bottom line is that in general, Smile Direct Club is the most affordable option for quality dental care offering more locations and accessibility to dentists. If your budget allows for it, and there is more concern or nervousness regarding remote-care efficacy, perhaps then Candid would be the most appropriate.
FAQs About Candid and Smile Direct Club
Why wouldn't someone be a candidate for Candid clear aligners?
You may have dental work that needs to be done before orthodontic work can be done. For example you may have cavities, wisdom teeth removals, or unhealthy gums that should be addressed prior to having orthodontic work done. Or perhaps you have a bad bite, which is not treated by Candid, and the company would notify it is outside of their ability.
Can I be treated by Candid if I'm under 18?
Generally, no. If you are 16 or 17 and have lost all your baby teeth, Candid may be possible with parental consent.
What are Smile Direct Club aligners made of?
The aligners are made of smooth and comfortable BPA-free plastic that won't irritate gums and cheek tissue like traditional braces are known to.
Am I a candidate for Smile Direct Club if I have an implant?
Some customers may be able to receive treatment with an implant present. The dentist or orthodontist can look more closely at each case and determine what is best for you.
Wrap-Up
Hopefully, this comprehensive list has helped your weighing of options regarding remote dental care. It is not easy to decide to have dental work done on such a sensitive area of our self-image. It is even more difficult to choose between companies when there is an overwhelming sea of information.
Having had an organized and in-depth look into either company, the hopes are that you choose the company best suited for your dental needs and budget. Your options are a little bit simpler now, and that's worth at least a little smile.